Remembering . . .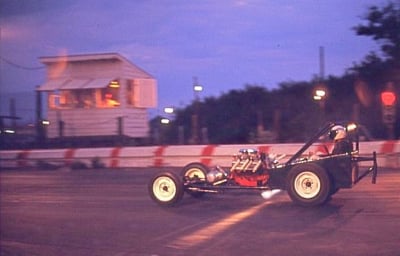 Old Bridge Stadium Speedway, mid-1960s. Photographer unknown
Atco
I was 14 at the time, but my brother, Marvin "Skip" Bernstein, drove down to Atco Speedway in Atco, N.J., in 1961 and drag raced his 1957 Plymouth 2x4 318. He ran 14.8's, ran out of gas and pulled to the side like he was on a public street. Too funny!  Skip raced a lot that year after getting out of High School 61 in Red Bank, N.J. There might be some old 8mm movies of it somewhere, but do not count on it. He always threw everything away! Jerk! Yes, he died in 2009.
Ralph H. Bernstein
I was in the USAF in the summer 1965 , I had a green '57 Chevy D/G that ran 12.9's at 110 mph. I blew my 5:57 rear, but lost anyway to a '37 Chevy D/G called "The Moose." I believe he was the NHRA record holder for that class then.
Mike Scott
Englishtown
Madison Township Raceway Park, 1977
I drove a AA/Fuel Altered one summer for a friend of mine until he got his license. I drove it at the 1977 Summernationals at Englishtown, New Jersey with a best time of 6.92 at 203 mph. It was a handful to drive. 

In 1977 I went off the end of the track at Englishtown in my "Frankenstein" dragster after the throttle stuck open and an engine explosion that burned off the chute. I went through the sand trap, hit the guard rail and pulled an anchor fence onto a two lane road at the end of the track. While that dragster, "Frankenstein," was being rebuilt, I used the other one to put together the econo dragster. I loved the art work on my "Frankenstein" dragster cowling. I  had many comments about it. The name "Frankenstein" was lettered on the back of the roll cage by the parachute pack, which, by the way, we only had the one chute back then. I named all of my dragsters "Viper," but one in particular I called "Frankenstein"  because I had crashed it twice and rebuilt it, also it was a real monster to drive!
Bill Bradshaw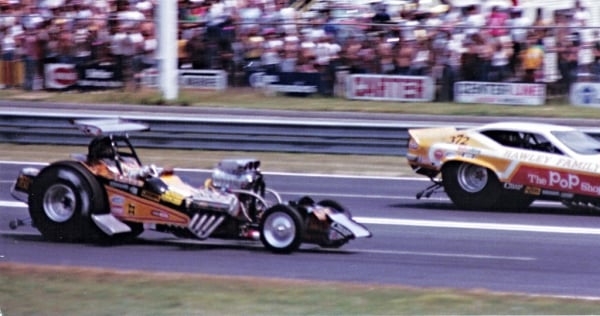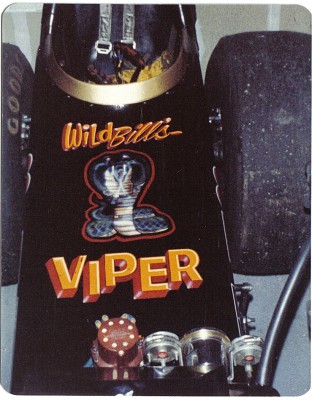 Bill Bradshaw driving a AA/Altered, 1977. Courtesy of Bill Bradshaw

Bill Bradshaw's "Frankenstein" dragster cowling art work, 1984. Courtesy of Bill Bradshaw

Old Bridge Township Raceway Park
I was amazed and surprised, after stumbling across your site, to hear . . . ME . . . on it. The Beauty and the Beast  Raceway Park (E'Town) radio spot was written, produced, and voiced by yours truly and Shirley and Jungle. I'll never forget doing that session. As you can tell, it was prior to the event. They were both on the phone (Shirley at home in Michigan . . . I forget where Jungle was) and I had to really coach them into saying nasty things about each other as they actually were good friends. It was kind of like promoting a pro wrestling steel cage match! As an aside, one time when he [Jungle] and Pam were in town for a race . . . in my living room . . . (after a few beers and possibly some other things), Jim thanked me profusely for being the "only drag strip announcer" to pronounce his name correctly. As he so succinctly put it: "I'm a German . . . I ain't no fuckin' Jew!" Most everywhere else, he was called LEE-ber-mun . . . which is not how it is spelled.
Charlie Roberts
Old Bridge Township Raceway Park. 1970s
Raceway Park in Englishtown is another track that my father, Neal Hinkle, ran at a few times. He did not have much success there. One time while trying to qualify for the Summer Nationals, he blew the engine at the top end of the track right in the timing lights. That made a good mess of oil and water all over the car. Another time he came off the starting line and broke the rear suspension causing the rear tire to move and break the body of the Nova.
Don Hinkle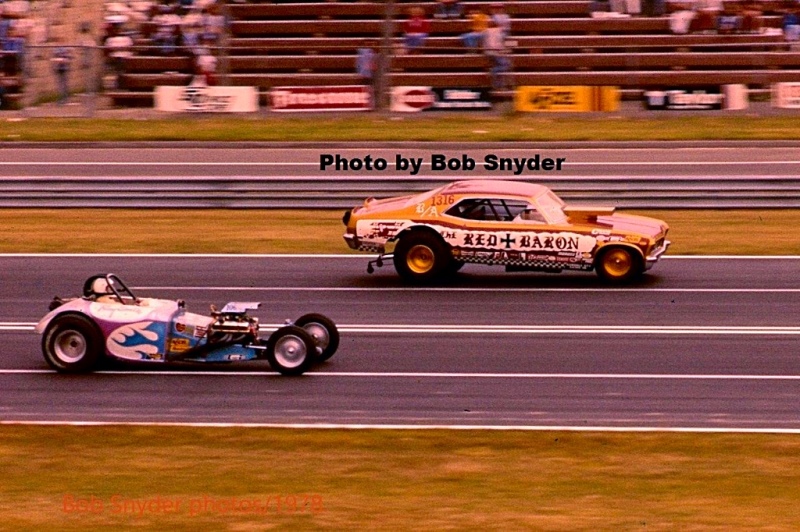 Neal Hinkle making a qualifying run in his 1969 Nova B/A at the 1978 Summer Nationals at Englishtown. Photo by Bob Snyder, courtesy of Don Hinkle

Old Bridge Township Raceway Park. late 1960s
The second car that I raced was a 1967 3X2 427 elephant-motor Corvette. Well, that was special. The lady that owned it kind of drafted me to be the driver "of the new car!" Too funny. She had a '66 300 Vette and everybody playing with it. While running "pure" stock was doing burning rubber hole shots. I saw that and thought, "What the hell!" Anyway, I took my shot at Raceway Park in Englishtown, New Jersey. By the way, I rolled off the line and turned a full second faster ET at 14.86 at 92 MPH. So I was elected the driver for the "new" car! So long story short, we ran the elephant "PS" with 6.70x14 tires at Atco, New Jersey, 14.8 at 98MPH, just to see. Next we added Hurst shifter/headers/airbags 8 lbs. left, 12 lbs. right rear, 8-inch slicks, 90/10F 50/50R shocks. We adjusted the rear camber so at the hole shot, the rear tires were square to the road. The funniest thing I ever saw--we did this on Monmouth Street in Red Bank, New Jersey. The cops came by and were shaking their heads! People on Broad Street a mile away thought they were at Raceway Park, with the echo off the buildings! I had pulled the Vette back into the garage. The mechanics, all twelve of them, were in the street with tape measures! This was a 8-inch slicks/open headers at five grand hole shot! We did 11.31 at 126 MPH at Raceway Park in Englishtown, New Jersey. Now we are into early 1968 and Danny Jesel of Duffys, in Red Bank, New Jersey, blue-printed the motor. Well, I won the '68 Spring Nationals at Raceway Park, at Englishtown, New Jersey. The classes changed over the winter. The car was B/SP in '67, but '68 NHRA changed it to AA/SP, running on a 9.91 record. Anyway, I beat "Trupie-Kling"  the New Jersey record-holder because he missed second. I ended up after five street eliminator rounds, twenty pounds under weight. A scale issue. But it was funny to see a 1955 Chev Nomad 6 cylinder with a 8.6-second handicap, leave the line and then wait that 8 or 9 seconds before my side of the tree started! He beat me by 1/2 fender! We flat towed to Indy for the 1968 Summer Nationals. That was the best speed the Vette did-- 10.09 at 138 MPH. I swear Indy runs down hill. We blew the new 4.88 rear on the second time trial run, which ended my racing that car.

Ralph H. Bernstein
Old Bridge Township Raceway Park
I did have a close affiliation with Englishtown and Vinnie Napp. I did his radio/TV spots (more than 600 of them) for the better part of 25 years. There is an interesting story about how that came to be and the mystery behind the mouse. And, I had the unique experience of sharing a house with Berserko for a few years until my marriage (to a woman) broke it up . . . whew!
Charlie Roberts
Flemington
Flemington Route 12 Dragway,  late 1950s
I raced at Flemington when I was in high school. "Raced" -- That meant taking my Dad's Dodge out there without his knowledge! I probably ran there two or three times, never won a single round of eliminations partially because the car was actually bone-stock. This was almost 60 years ago, and it was all fun.

Jon Asher

Senior Editor CompetitionPlus.com

Senior Editor Drag Racing Edge Magazine
Great Meadows
We were running a new class back then called B/Econo Dragster which was not that fast, around 8.50's at 160 mph. It did however get me hooked up with a new sponsor, Frank Lupo, who still owns Dynamic Transmissions. I did a lot of R&D for them with the Power Glide & 8" Torque Converters and in a few years switched back to a Supercharger Injector on top of a small-block Chevy motor, which we bested a 7.51 at 187 mph at Englishtown, New Jersey, in 1984. Today that very combo is being used in Top Alcohol Dragster running injected nitro. We were on the cutting edge 30+ years ago and if Connecticut Dragway had not closed, I can only guess!

Bill Bradshaw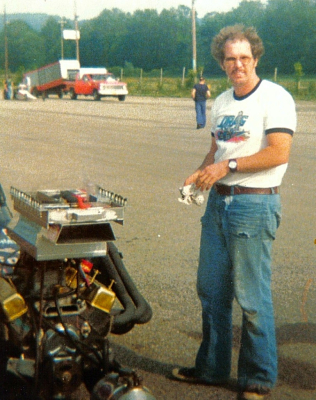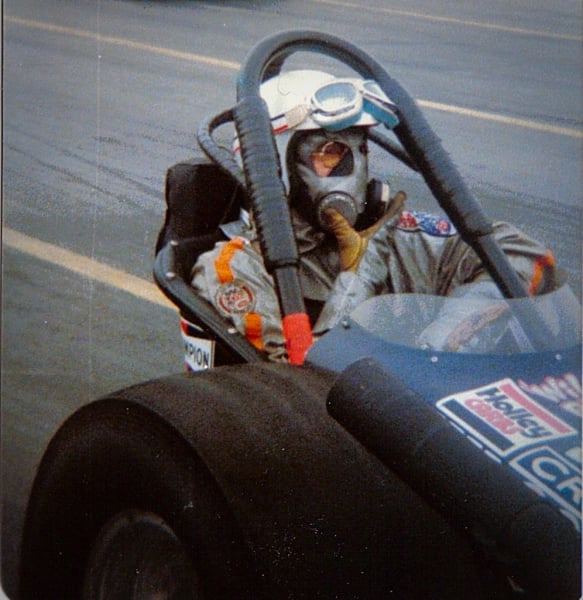 Bill Bradshaw, Island Dragway, 1977. Courtesy of Bill Bradshaw

Bill Bradshaw, Island Dragway, 1977. Courtesy of Bill Bradshaw

My father, Neal Hinkle, ran his '58 Vette and 1969 Nova at Island Dragway sometimes when Maple Grove was having a special race meet. Island Grove is a good place to work the bugs out of a fresh race car and fine-tune the engine. The pit area was nice and the track works well. Drag racers followed the weekly series there and had a good time. Neal said, "I was talking to some friends that were at Island recently and they said not much has changed over the years." When Neal ran the Nova the first couple times, he found the end of the track came up quick. Neal was letting the parachute slow the car down and not using the brakes hard. The Nova was faster than the '58 Vette and he was remembering how quickly the Vette slowed down. After doing that a few times, he started using more brake and adjusting his driving style. The "Red Baron" Vette did well at Island Dragway. Traveling home after the races, we would stop at a local hot dog stand for some awesome dogs.

Don Hinkle
I was at Island Dragway in its opening year. I have a middle eliminator trophy from my friend for a race held on March 25, 1961. Great times.

Rhea Fountain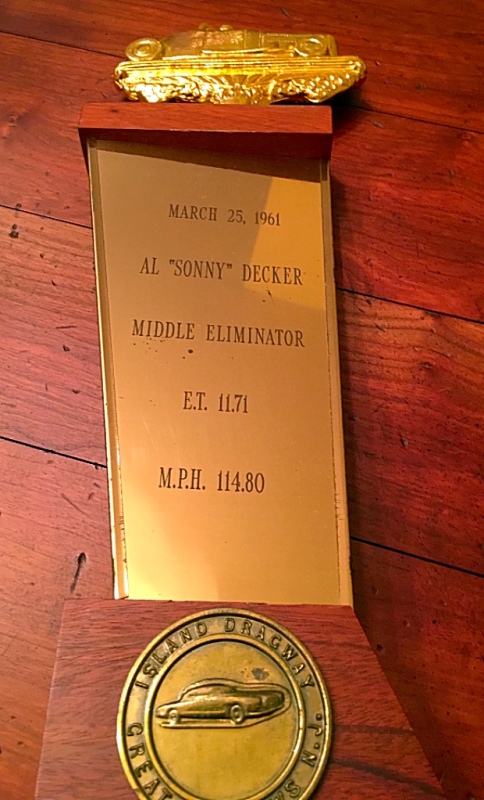 Al "Sonny" Decker's Middle Eliminator trophy won at Island Dragway in 1961. Courtesy of Rhea Fountain

I saw my first-ever drag race at Island in 1959. Dick Belfatti's "Shadow II" was there that day (I think!). I also saw Garlits run 201.34 for the NHRA record at Island. I raced there two or three times, losing every time with my dad's bone-stock Dodge -- but I had fun.

Jon Asher

Senior Editor CompetitionPlus.com

Senior Editor Drag Racing Edge Magazine
I ran there in summer 1962. I had a '57 Chevy C/G, running low 13's at 104 mph. I won class, but blew the engine at the finish line. I had to get towed back to Long Island.

Mike Scott
My father raced at Island Dragway a lot of Sundays for a lot of years in the early to late '60s, I was in my teens at the time and went with him as often as I could. He was Bill Diggles. Other racers called him "Deacon." He ran an F/SA '59 Catalina tri-power with custom headers (street legal - removable plates for open dumps), Bucron cheater slicks , and lot of secret tweaks. He consistently won his class and often the eliminations. He occasionally ran at other tracks. I remember going to Pocono with him when it was still a dragstrip.

Bill Diggles, Jr.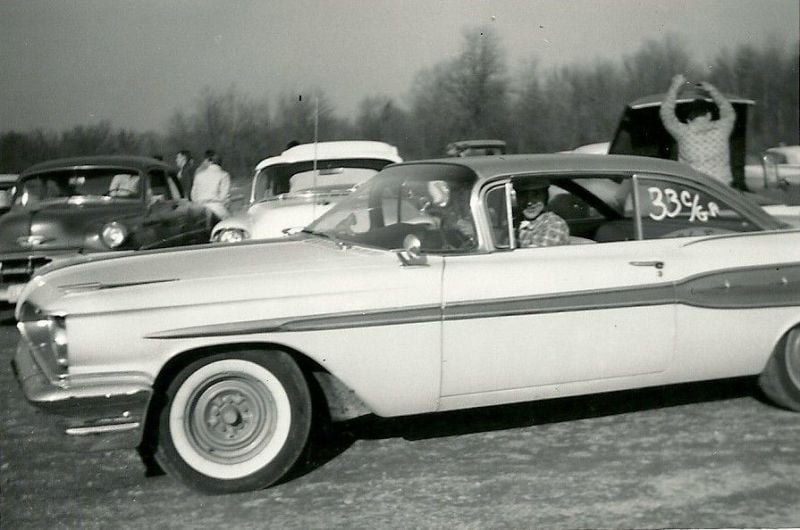 Bill wrote, "Thi is my dad's first '59 tri-power Catalina with my uncle Al behind the wheel. My dad liked the "rocket" trim on his '57 Chieftain so he had '57 trim put on his brand new '59. This car was two-tone blue." . Courtesy of Bill Diggles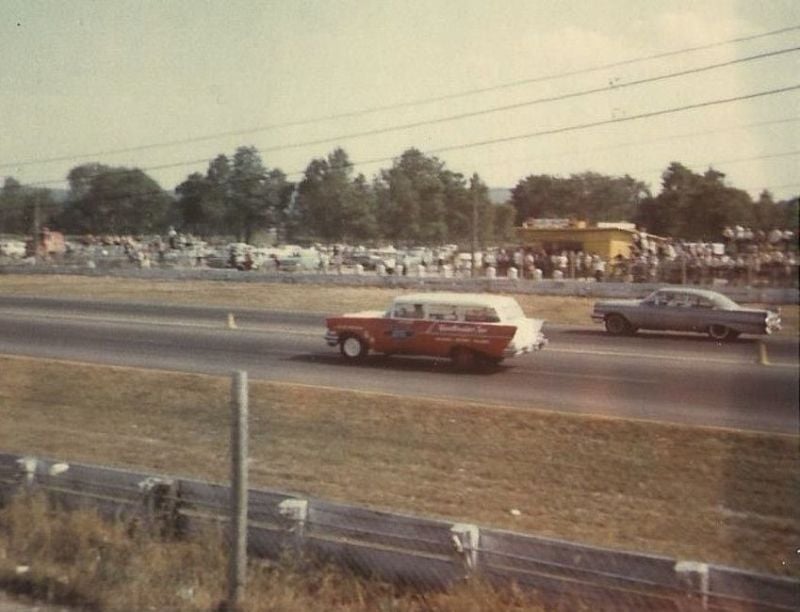 Bill wrote, "Bill Diggles' F/SA '59 tri-power Catalina taking on the J/S 'Heartbreaker Too.'
The handicap gave the J/S an earlier green so the old man had to come from behind to win.
Thanks to my old pal, the late Bill 'Looney' Bihn for snapping this when we were kids together."
Courtesy of Bill Diggles

So cool to see the video of Don Garlits set the 200+ record. I was there that Saturday for record runs. I've always thought the Frantic Four set the first sub 8 second run that day at something like 7.92. Everybody was saying how much faster can a car ever go. I never raced there, but made the trip on many days to watch. Great to see something I thought I'd never see again. Thank you.

Gary Ternyila
Old Bridge
Old Bridge Speedway, ca. 1959-60
Oh man, what a place! Drag races that went 320 feet! Took my dad's car out there without his knowledge. The first time the car was tech'd as C/SA, but it was bone stock, so I lost first round, and got only a couple of runs. The next time I said the car was in C/GA (yeah, I know: who has automatic gasser classes?) Anyway, that let me get into the fast car lane, so I got about four runs before again losing in the first round, as I always did with that car. I saw and was mightily impressed by the first Max Wedge Mopar to run there. It was brand new and everyone mobbed it. The Don's Speed Shop dragster supposedly ran something like 178 MPH in the track's 320 feet, but who am I to question it?

Jon Asher

Senior Editor CompetitionPlus.com

Senior Editor Drag Racing Edge Magazine
Old Bridge Speedway, 1964

I did a bit of racing. The first was a 1964-1/2 Mustang. I picked up the Mustang. The serial number was less than 200. I was the owner's licensed driver. He only had a permit. In March 1964, we raced at Old  Bridge, New Jersey. The 3/8 circle track had 1/16 mile drags. I did better--5.9 E.T. at 61 MPH--than the kid I went to high school with. He did a 6.1 at 59 MPH! So I was the driver. We also ran at Island Dragway at Great Meadows, New Jersey--14.8 at 86 MPH. I welded up four tube headers into 3-1/2"  collectors, Isky hydo lifters, 6-inch recapped slicks, and a 1-inch square tube for the shifter.

Ralph H. Bernstein
Pleasantville
Atlantic City Speedway, 1960s
I drag raced at Atlantic City Speedway for years. I have many fond memories of P'Ville. I worked on the starting line, holding onto door handles to keep the stick cars from rolling while the flag man (yes the flag man) jumped up in the air. It was an 8th-mile strip that was part of a half-mile stock car track. Just a local Friday night track that shaped many kids' youths.
Ed Mathot
Atlantic City Speedway, 1968
Lots of racers from nearby Vineland, N.J. raced Pleasantville's "front straightaway" in the opposite direction of the modified stock cars that ran there on the oval. I won my first-ever drag race ever entered at "AC Dragway" in my 1967 Plymouth GTX during the 1968 season. I won there three times that first year I ran, before moving over to Atco Dragway from then on. I remember the AC track had an opening in the guard rail off turn four that allowed us to run off into an area that was dirt if we didn't get slowed down quick enough. I still have my trophy from there. I was only 18 years old at the time, and am still at it today but my son, Tim, is the regular driver!
Greg Zyla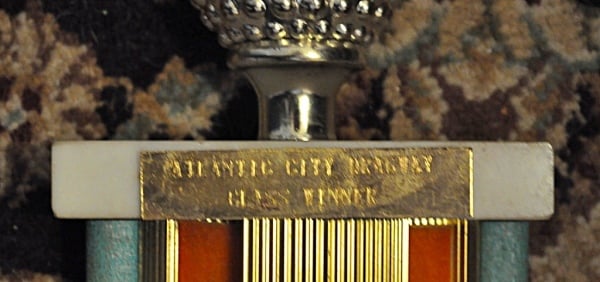 Class trophy won by Greg Zyla in about early June 1968 at Atlantic City Dragway in SS/DA in his 1967 Plymouth GTX 440. That is a 1957 Plymouth on top of the trophy, which has reportedly held up better than many of the other subsequent trophies Greg has won. Courtesy of Greg Zyla

Atlantic City Speedway, late 1960s-mid-1970s
My late father, Edward Crean, Sr., drag raced at Atlantic City Speedway in Pleasantville, New Jersey and Atco Raceway in Atco, New Jersey from the late 1960s until the mid 1970s. In that time frame he drove a 1956 Chevy and after that a 1968 Fairlane Cobra, which he only raced at A. C. Speedway. He also raced a '65 Mustang at A. C. Speedway. The '56 Chevy was the last car that he raced before he stopped drag racing for good.
Eddie Crean, Jr.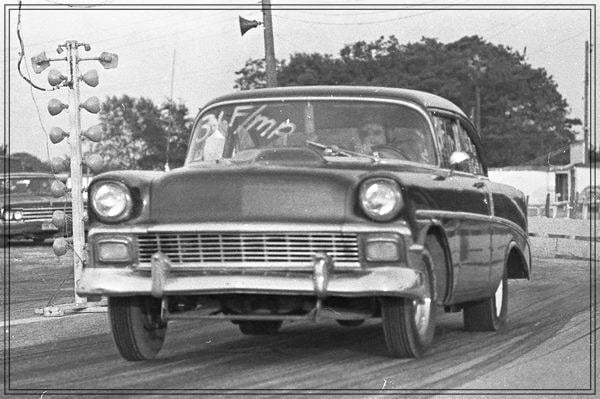 Edward Crean, Sr., launches from the starting line at Atlantic City Speedway in the late 1960s in his '56 Chevy. Courtesy of Eddie Crean, Jr.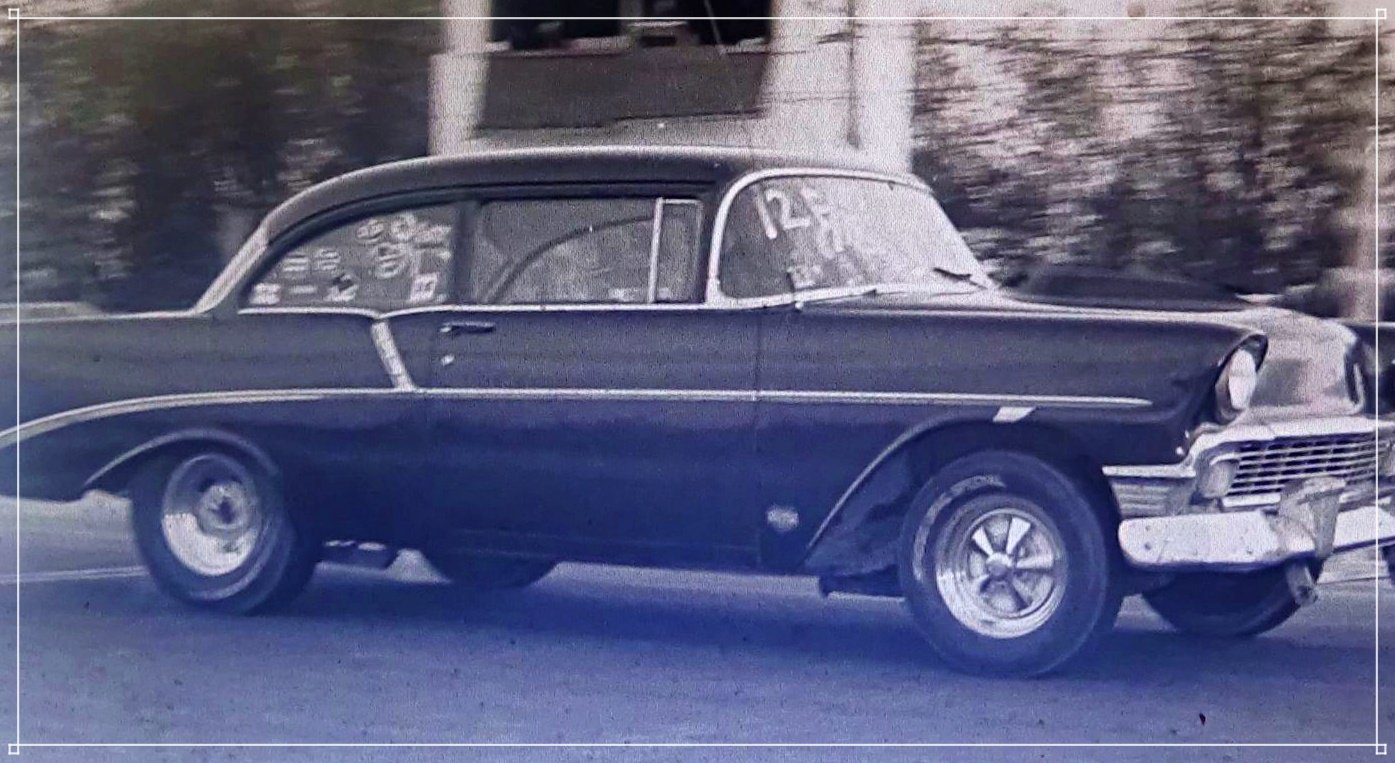 Edward Crean, Sr., passes the timing tower in making a run in his '56 Chevy at Atlantic City Speedway in the late 1960s. Courtesy of Eddie Crean, Jr.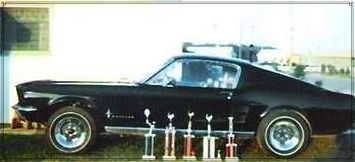 Edward Crean's '65 Mustang and some of the trophies that he won at Atlantic City Speedway. Courtesy of Eddie Crean, Jr.

Vineland
Vineland Speedway Drag Strip, 1958-65
I raced at Vineland Speedway Drags. I raced a 1957 Corvette in '58 & '59 , a Chevy Crosley B/A in '60, and a Chevy modified sports car in BM/SP & CM/SP in '61. I set two NHRA records at Indy (IRP) & won my class in '61. In '64 I ran a  sedan with SCCA on a  road coarse & in '65 I ran a C/M Chevy Maserati (A6GCS #2053) on a road coarse. The track closed at the end of  '65.
Lou Casazza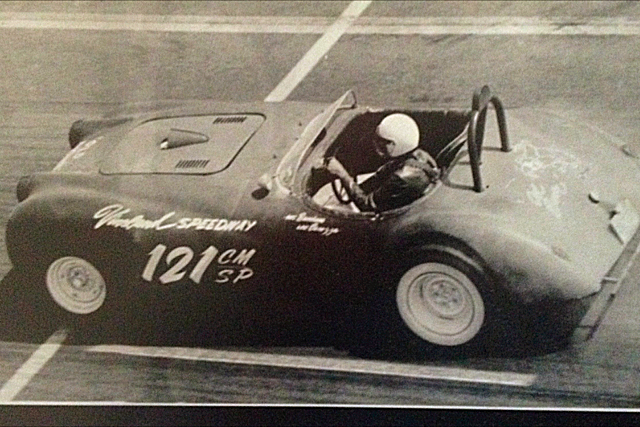 Lou Casazza's "Old Brown" at Vineland Speedway Drag Strip. Courtesy of Lou Casazza

Wrightstown
Strato Rods Dragway, McGuire Air Force Base, late 1970s-early 1980s
I raced a '56 Chevy in the E/Gas class there in the '80s and won several times, running in the low 12s.  283, .060 over to 292 ci, 30/30 cam and some head work, fender well headers, and high rise and 650 Holley, all in red primer.  The hood scoop was made from a propane dual tank regulator hood with the front cut out. The cool can was an old coffee can with copper tubing in it. The tube grill was old café curtain rods which popped out sometimes and sparked all the way down the track, usually on a hard launch or 1-2 shift.  Hood and trunk deck pins were 5/16" bolts with the heads cut off and drilled for clips. The driver's seat was from a  old  Austin and wasn't much more than a lawn chair, held to the floor by 4- 5/16" bolts and a GM lap belt bolted to the floor pan the same way. Back then no one really had any money, but farmers like us found a way to race and have fun. The dragstrip was an unused runway on McGuire AFB. It was  called Stratto Rods Dragway. All concrete. No money, just trophies. One of my memories was sitting at the line, staged at about 5000 RPM, and someone ran out in front of us and grabbed the tree and ran off, motioning us to pull off to the grass fast. Turns out it was a small plane that needed to make an emergency landing. Crazy but fun place.  Great people and great track. That's what racing used to be and should still be, not so much about money. I love grass-roots racing. I stopped drag racing in the late '70s because of bracket racing. Total BS!!!  If you race too fast you lose????  WTF.  Then I went oval track racing for 40 some years. Look up 3rd turn and look for Chuck Dublick (yellow # 5).  I own a
high-performance transmission rebuilding shop in New Jersey
. Glad to help out fellow racers.
Chuck Dublick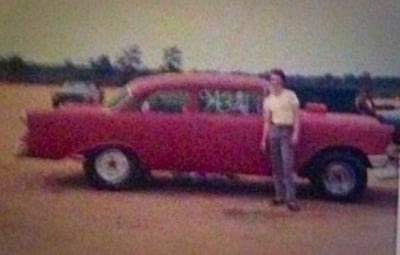 Chuck Dublick and his E/G 1956 Chevy, at Strato Rods Dragway. Courtesy of Chuck Dublick and Dennis Sizemore

Chuck Dublick in his E/G 1956 Chevy, at Strato Rods Dragway. Courtesy of Chuck Dublick and Dennis Sizemore
Strato Rods Dragway, McGuire Air Force Base, 1980
I did not race at Strato Rods Dragway, but did briefly spectate there in September 1980. My cousin was in basic training at Dix and one Sunday we went to visit him. After lunch we headed over to McGuire to watch planes come in. We could hear the cars racing so we snuck in the pits through the barbed wire fence. Secure military base, huh. My brother and I stood by the bleachers and watched the last few pairs of time trials while my cousin snapped a few pictures. I still have three or four in my album. We left before eliminations started and then it rained anyway.It was the only time I was there. One thing that sticks out was how they had driver meetings. They towed an old Mr. Softee truck with a tractor out to the starting line and had their meeting and first round pairings done there. I know a few guys that ran there and said it was rough after crossing the finish line. Dan Pomponio won best appearing car for Strato Rods at the 1980 Bracket Finals. He now runs alcohol funny car.

Ed Beers
Strato Rods Dragway, McGuire Air Force Base, 1965-66
My friend, George Adams, and myself raced a Day Glow orange 1955 Chevy at Strato Rods and Atco Dragway in 1965 and 1966

Bob Drayton