Remembering . . .
Dick Harrell, Camaro funny car, Mid-America Raceway, 1971. Photographer unknown.
Asbury
I raced there from '65-72, all stock elimianator cars. It was a great race track and well managed. I ran the best time in my '66  L79 Nova there-:12.90 at 109 mph.
Bill Pringle
Bethany
Thunder Valley Raceway, 2010
I do not know the complete history of this track, but did race it as late as 2010, I think. It closed for a while, but I understand it is going to be back open in 2017. I think the current name is Thunder Valley.
Shon Berry
Kahoka
Tri-State Dragway, 1964-66
We enjoyed a couple of match races at Tri-State Dragway with Jack Ditmars and the "'Lil Screamer." Our name was Hall and Peterson. We ran a 1948 Crosley Hotshot, with a 327, Hilborn stacks, Isky 550 roller, etc., all on 2,000 pounds.  I was not a detail person,other than wrenching and driving the Crosley. We raced Jack Ditmars 
no less than twice.  
Got beat both times, but made alot of noise. Ha. 
  Great memories I have at, now, age 71. Tri-State was an 1/8 mile strip.   I know WLS radio always seemed to run the match race ads, and boy, they did a great job.   I never got any pics from those races, and I can't articulate what it would mean if anyone has ever submitted pics taken on those awesome warm summer nights. Do you remember Lee Smith and his beautiful Chrysler sponsored hemis he ran for many years? 
We raced him at Cordova a number of times; lost a couple. 
 I also worked with him as a pit crew member. He was well-known, kind of in the same breath of Ronnie Sox of Sox and Martin, Dick Landy, etc. 
Jon Peterson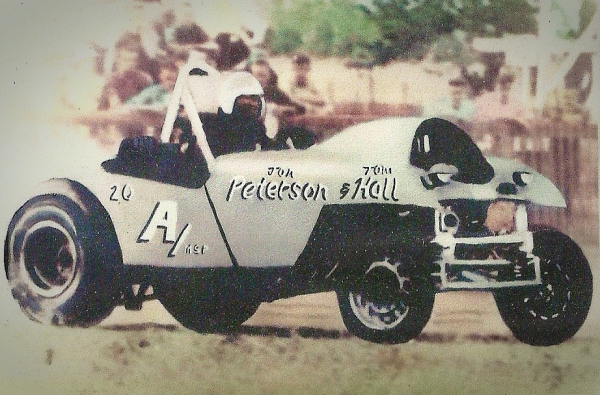 Jon Peterson's 1948 Crosley Hotshot A/MSP

Leo Payne and I would race about every Saturday night at Kahoka back in the early sixties on our fuel Harleys. I remember my best 1/8th-mile time at Kahoka was 5.42, which was a track record for about 5 minutes . They called me up to the tower to look at their timers, and when I was checking them out, Leo Payne made a pass at 5.41. That is how it was between Leo and I all the time. These were open fuel bikes and, for the time, were pretty nasty. These were sort of magic times in a way. We were doing tons of R&D and just trying to get all that we could possibly squeeze out of our bikes. Our racing careers were really taking off, but in July of 1965, I was drafted into the army and sent to Viet Nam. There were other good riders like Tom Meder that were great racers. Good memories.
Lynn Pierson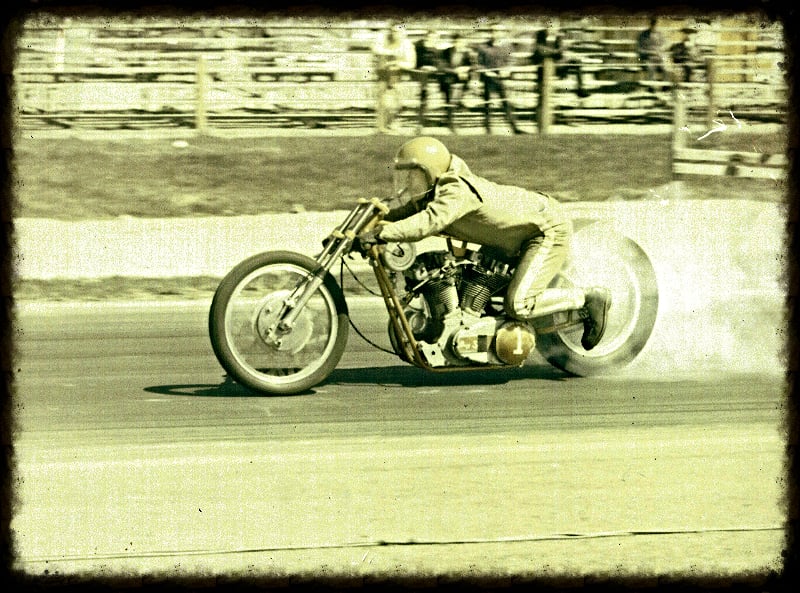 Leo Payne gave Lynn Pierson this photo of him on his Harley drag bike, but was not sure what track he was racing at in this photo. Courtesy of Lynn Pierson

Lynn also wrote about the first time that he met Leo:  It was about '61 or '62 when I was at my local Harley dealer (Wilson's Harley Davidson) watching Mike Wilson helping this guy tune up his Sportster. I noticed this bike had a very strong-sounding motor and as I remember a tank that fit the times. It had a painted pig's head wearing a helmet and on each side of the tank he had the name "Turnip Eater" in a mocking way that resembled the way Triumph tanks were lettered. In those days there was a lot of competition and a fierce rivalry between the British bikes and the American bikes. Anyhow when they finished their tune job, this guy climbed on this bike and rode over to the gas station which was next door and started gassing up. I heard someone yelling, "Why don't you go with him?" I turned around to see it was Margaret Wilson. I asked, "Where's he going?" She said, "Iowa City to see a friend and mainly to break in his bike." I figured why not. I'm not doing anything anyhow. I got on my bike and rode up next to the guy and asked if he cared if I could tag along. He said he didn't care. I introduced myself and then he introduced himself as Leo Payne. That was the start of a long friendship. We started on our ride and, of course, about half way there we got into a heated race. Now my bike was no cream puff and was good for about 145 and hadn't been beat until now. This was the start of a new learning process for me. I just got my butt kicked. When our flight landed in Iowa City and soon came to a stop, we were sitting in front of an old farm house. Leo told me this is where Tiny lives. Soon there was a very large man that came out of the house and just kind of smiled. I really can't remember what we talked about or what we said, but I knew I'd just made another good friend.
Kansas City
Kansas City Timing Association Drag Strip, late 1950s
I have raced my '56 Chevy there in the late '50s.
Mark Magel
Kansas City International Raceway, late 1960s
At that time I had a '67 Dodge Coronet R/T. 440, four-speed, bench seat, Dana 60. We simply called it the "Chouteau" drag strip since it was just off of the Chouteau Bridge over the Missouri River. I was only there once and was having a great day until I came up against the blonde girl in the Marina Blue 375-horsepower Super Sport Nova. She had the power and the talent.
Ray Weter
Kansas City International Raceway, 1980-81, 1990-91, 2003-11
I raced here in 1980-81. Then in 1990-91. I helped rejuvenate the track in 2003-4 and raced till 2011 and was a lane sponsor on the tower side in 2010. As of 3 months ago [Dec. 2017], the track has been bought and will again be rejuvenated again in hopes of keeping it open, permanently.
Rod Mills
Malden
SEMO Drag Strip/Malden Drag Strip, 1961-67
Malden Dragstrip was sanctioned by NHRA from the start in 1961. I was never strip manager [at the beginning]. I was the tech man from the start until 1964 . . . . The Malden Dragway races were managed by [me] in 1967.
Jim New
Monett
Four-State Dragway, 1965-66
I raced at 4-State in '65 & '66. I raced a Pontiac in '65, and an L79 Nova in '66. It was an airport so we would have to stop racing to let planes land. Word was, you could put a marble on the finish line and it would roll to the start line. I always ran slower there than at Mokan. I won 3 trophies in one day back in 1966. I won my class, Top  Stock, and fastest Chevy based on handicap. That was the highlight of my racing career.
Bill Pringle
I raced and worked at 4 States Dragway in Monett, Missouri. Leon Kelly was the flagman to start the race and I was the flagman at the finish line to indicate the winner, Once when I drove Leon's '39 Chevy coupe, we broke the tranny and pulled the one out of my '57 to finish the race and then put it back so I could drive home. At another race the weld broke on the sterring wheel of my Henry J (which I still have) and I had to clamp a vice grip to the sterring column and finished the race, steering with the vice grip and shifting a 4-speed.
Dennis Worm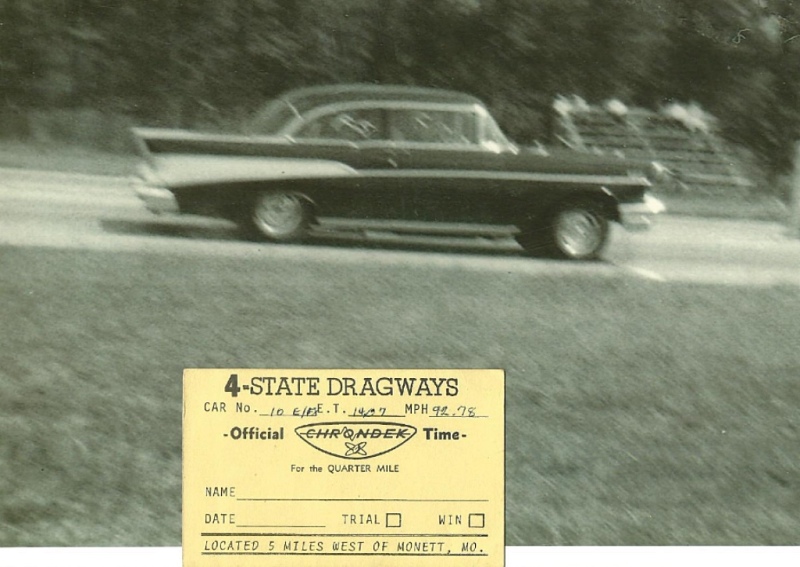 Dennis Worm's 1957 Chevy at 4-State Dragway with a time slip. Courtesy of Dennis Worm

Four-State Dragway, ca. 1966
Maybe  in about 1966 at Monett, I won "Little Eliminator" in a '64 Fairlane Sport Coupe, 289 Special, four speed. The 289 Special had a two-barrel carburetor. I never did find out for sure what the difference was in that engine and the base 289 two-barrel. And by the way, I had a "Cobra Kit," solid lifters, and cam installed in it at "Tall Paul's" Ford dealership in Hickman Mills, Missouri.
Ray Weter
Ozark
Springfield-Ozark Dragway, 1960s
I raced my daily driver a few times at Springfield-Ozark Dragway in Ozark, MO. I attended races there regularly in the mid- to late-'60s, seeing many of the top racers of the day. I used to have some photos, but they have been lost over the years.
Warren Walther
Pacific
Pacific Drag Strip, 1963-ca. 1966
I went to the races with my dad in 1964 at Pacific Drag Strip and a few years after that. We got there one Sunday. The track was closed because of an explosion on the property. We did see Dickie Harell at the Nationals one year. I was 13 years old.
Steve Stranz
Pevely
I met the owners of the 1/8 mile strip six months or so after I moved to Washington, Missouri, in October, 1992,  The serious flooding in the area from October, 1992 through the summer of 1993 opened up a large sinkhole which swallowed much of the strip.  The owners had a successful business with their dirt circle track so chose not to spend the money to move and remake a paved drag strip.
Steve Schultz
I worked for Elmer Sago Car Repair when he built the strip. My 1970 SS Chevelle was the first car to go down the track. We drove to the track to see if they were done paving it one day. They were finished and Elmer said, "Let's try it out." He was a great guy. I turned 16 in March 1970. I-55 Drag Strip was finished in late summer of 1970. We had a match race with the late Jim Kirby with his Dick Harrell '68 Camaro funny car. He was going to race a AA/FA called "Insanity." I don't remember who won, but the AA/FA destroyed the center timing lights on his first test pass. After that, Jim Kirby was concerned about that, but they raced later in the day.
John Shain
I raced at Pevely, '69 to mid-'70s.  Elmer Sago was the promoter. I had a lot of fun. I raced there several times. The track was located somewhere between Rolla and Pevely, closer to Pevely.  My car caught on fire. They had next to no fire equipment.  A water delivery truck happened by. Saved the drive train.
Howard Kunz
Howard Kunz raced primarily at Wentzville, Pevely, Sullivan and Granite City in the 1960s and 1970s. The "Plum Crazy" wagon ran low 11-second passes.. Courtesy of Howard Kunz

Sikeston
Interstate Dragways/Jeffers Motorsports Park, 1969-present
My friend Daryl Cooper won the first ever-race at the Interstate Dragway race track on April 20, 1969. He raced a 1956 Corvette and won $25.00. He continues to race there. Daryl and I have some pictures from Sikeston back in the early 70's when Rapid Ronnie Runyan's Blue Hell Corvair funny car ran Don Bigger's Hemi Duster funny car. Also the Radici and Wise 1970 Funny Car Camaro ran there and match raced the Grant Rebel SST funny car.  I go there many times to help my friend Daryl Cooper. It is now Jeffers Motorsports Park owned by Larry Jefffers and Randy Merrick.
Lyndel Revelle
Phil Brannan purchased the Sikeston Dragstrip from John Brewer, and ran it until his death in either 2011 or 2012. Phil was a notorious character, and one of my best friends, from 1960 until his death.
Jim New
Sullivan
I raced at Sullivan many times. I had a '64 Chevelle "Plum Crazy." I ran mid 6s. All I remember is if you didn't stand on the brakes hard, the shutdown was pea gravel. Not fun if anything was not good.
Howard Kunz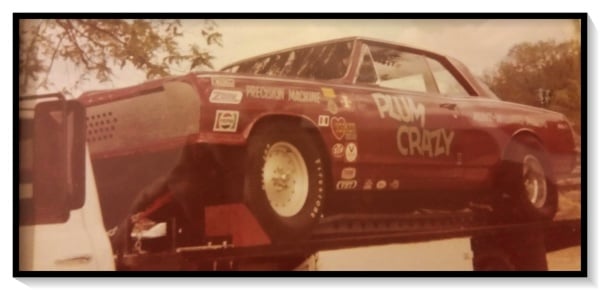 Howard Kunz's '64 Chevelle ran in the high 10s in the quarter mile. Courtesy of Howard Kunz

Wentzville
Mid-America Raceway, circa 1971-72
As my years of going to grad school and working in St. Louis were drawing to a close, I heard about a drag race being held at a track out in Wentzville, which I also knew, was where Rock 'n Roller Chuck Berry lived. As we lived in the city, it was a breath of fresh air to get out in the country where MAR was located. Lots of trees and rolling country ground. Without the home movies I took of the race, I probably would have forgotten that Dick Harrell and Gene Snow were some of the funny car racers there. I sat in the spectators stands on the east side, but also was able to get right behind the starting line to take movies.
Mel Bashore
Mid-America Raceway, 1967
These are the photos I took at MAR during the 1967 KXOK-sponsored drag race [American Gold-Cup Drag Festival]. 1967 was a year of revolution in the Top Fuel class, as the slipper clutch was making its way onto the scene, and my photos reflect that. Some fuelers did a smoky burnout the whole length of the track, others ran much as they do today, albeit several seconds and 100 mph slower. Some notable players at this meet were: Pete Gates and his Comet funny car, Dickie Harrell's Chevy II roadster funny car, Wayne Arteaga's gasser, Curtis Wasson's supercharged '62 Corvette, Wayne(?) Site's Barracuda funny car, several locally-sponsored funny cars, and Hollie Swindle's Back-up Pickup. Some of the photos have fingerprints on them, a lot are out of focus or framed badly, but a 16 year old kid panning an Instamatic camera is going to have those issues.
Mark Workman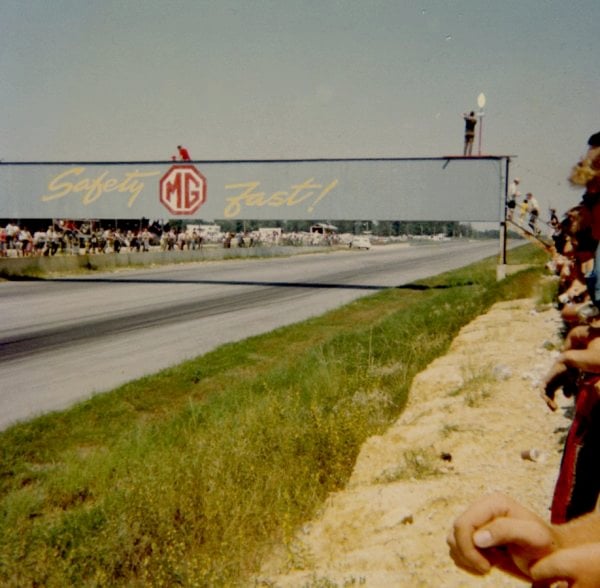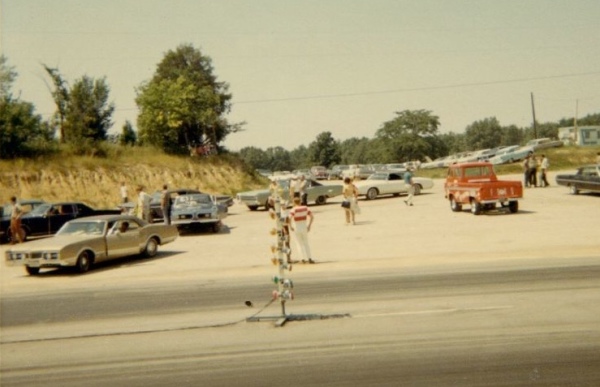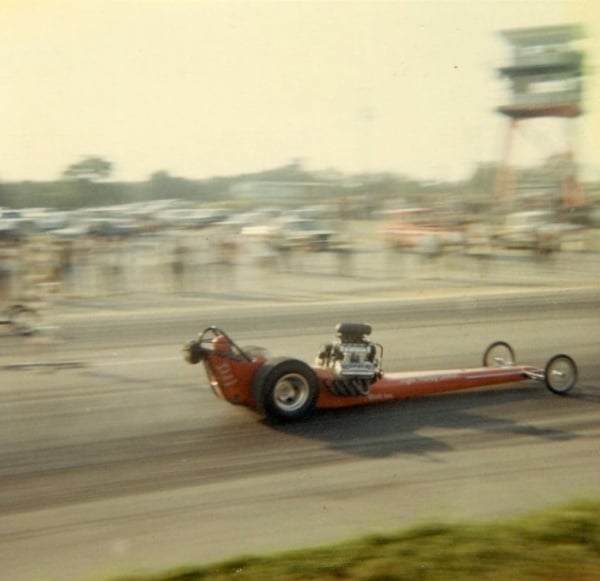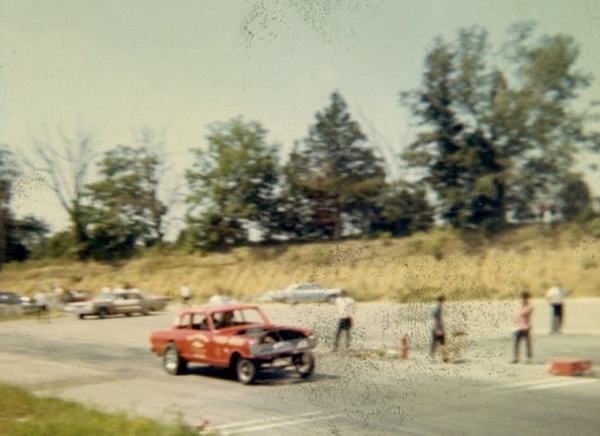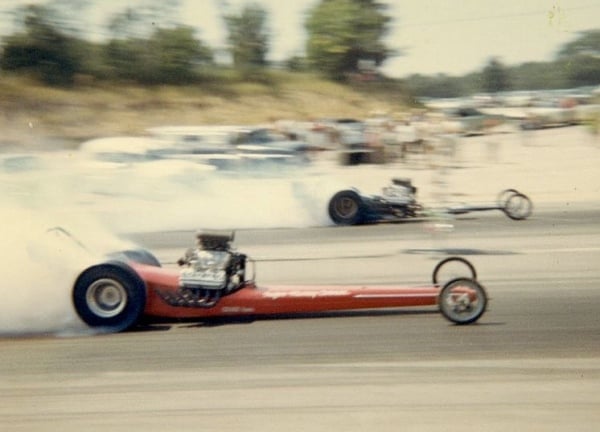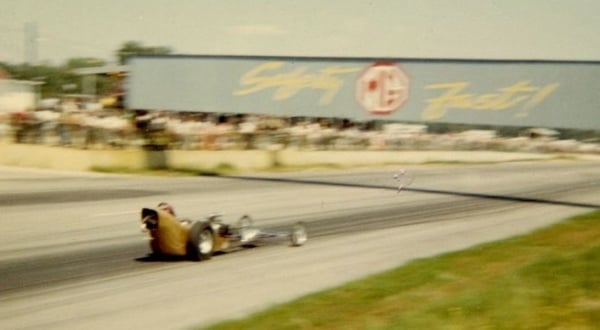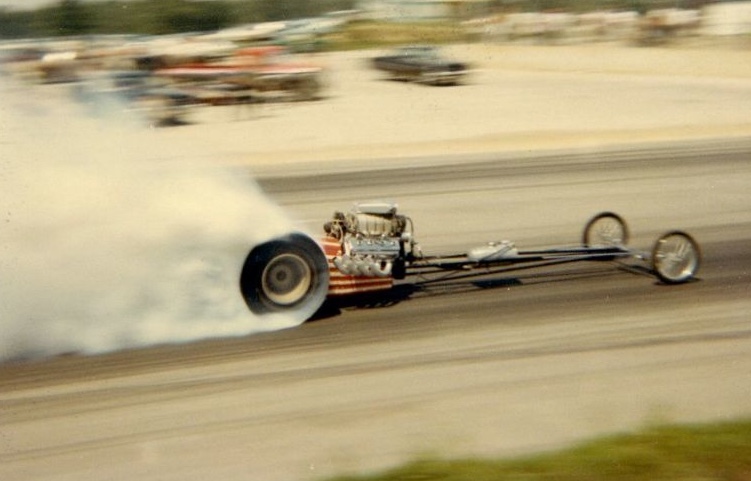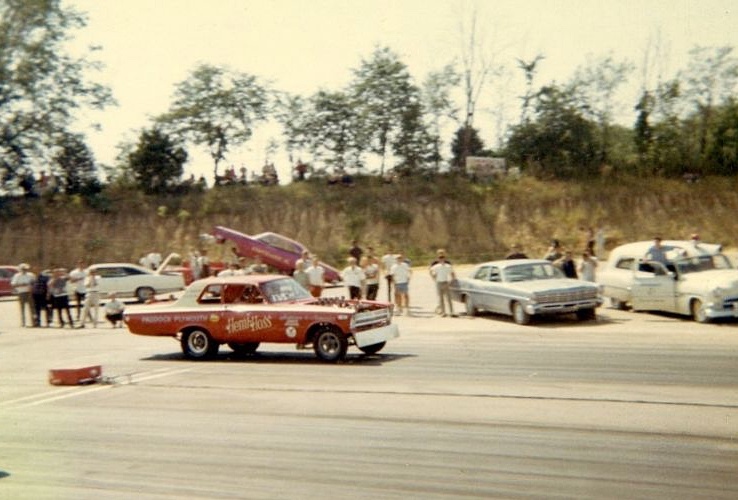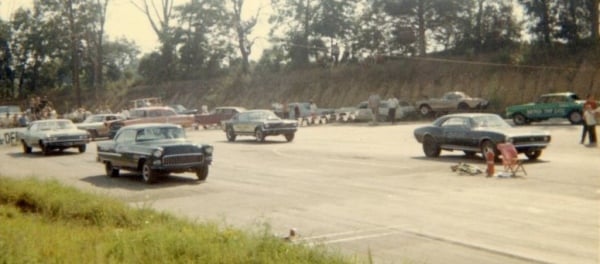 Bertram-Goss "Hemi Hoss" Plymouth funny car, from Florissant, Missouri. This car raced frequently at Springfield-Ozark Raceway in 1967.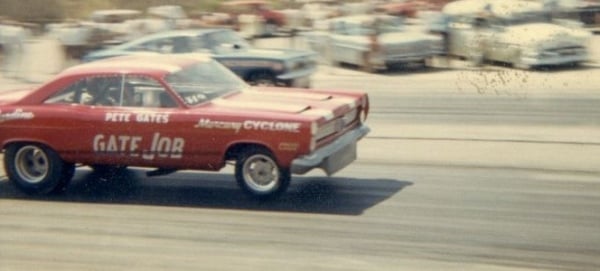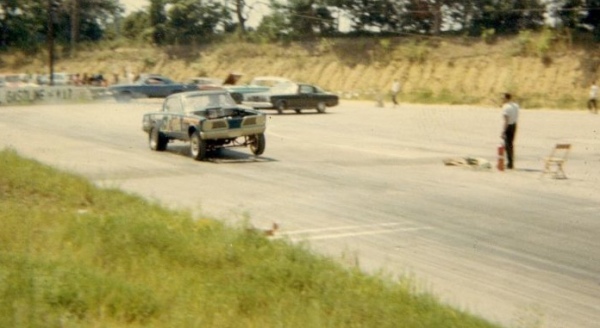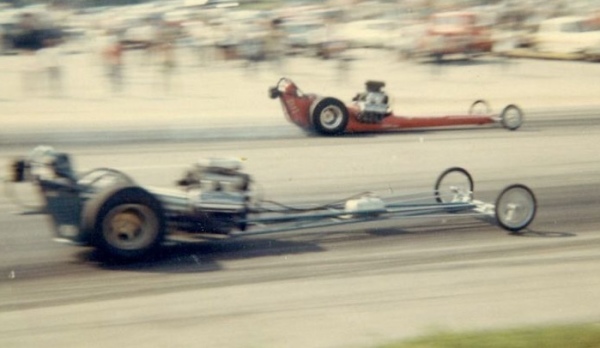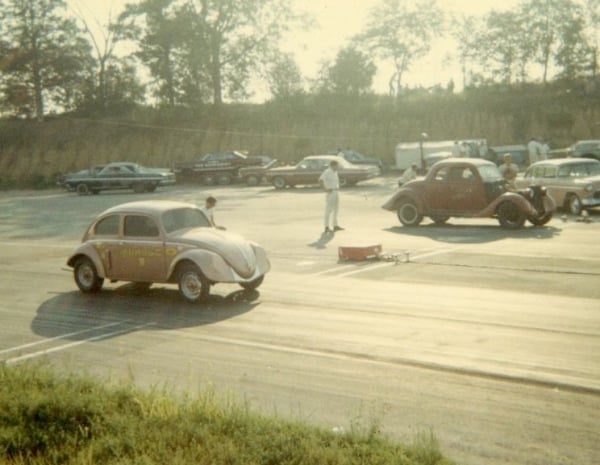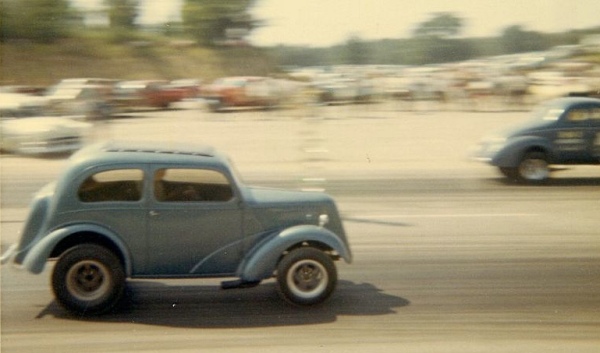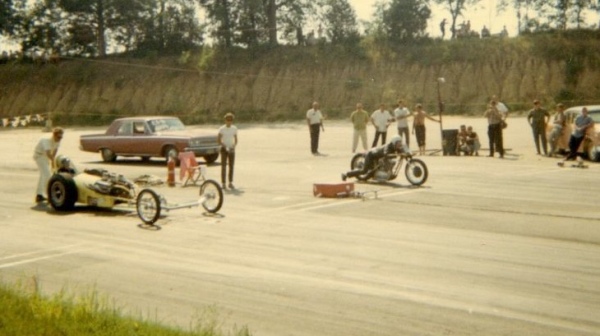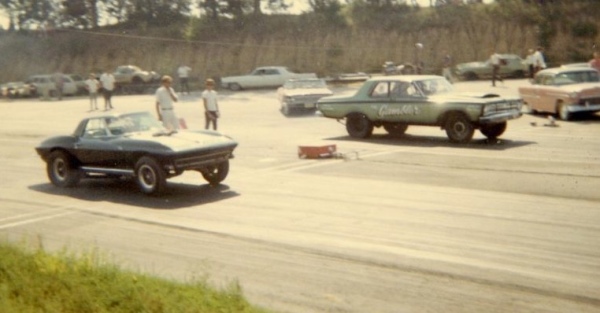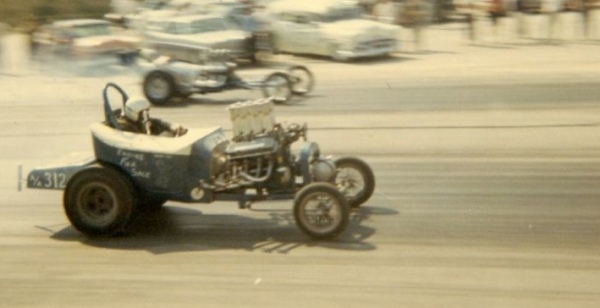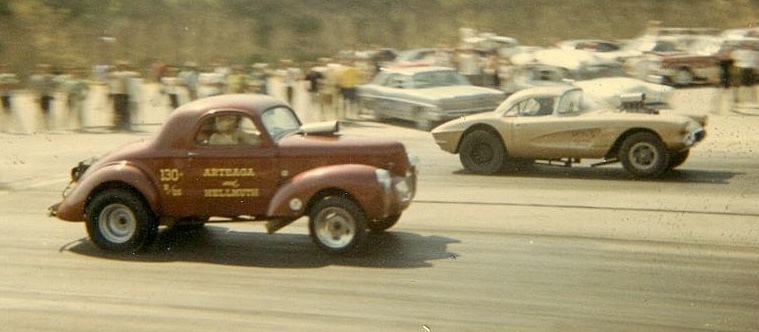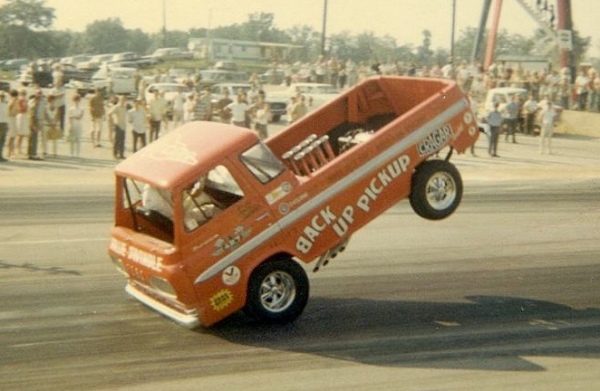 Holly Swindell's 1965 Ford Econoline "Back Up Pickup" wheelstander, from St. Louis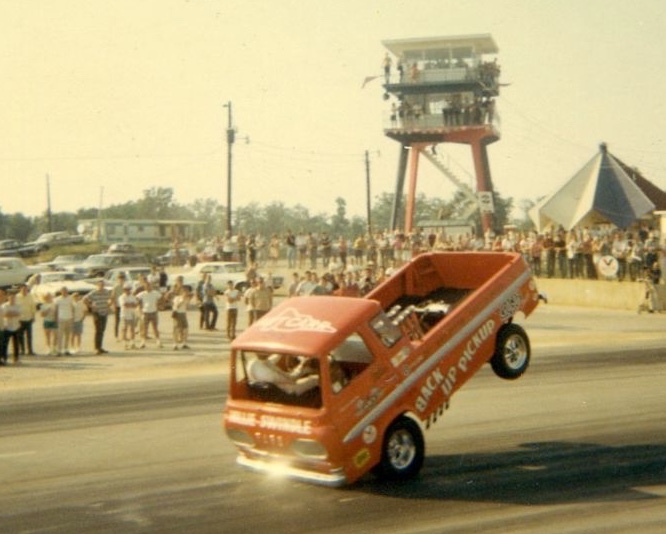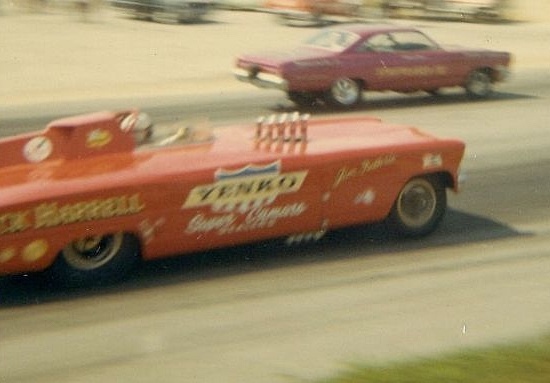 Dick Harrell's Chevy II funny car.  All photos courtesy of Mark Workman

Mid-America Raceway, 1969-71
I raced at MAR in 1969 and 1971. I raced a Chevy Impala in 1969 and a 1971 Chevelle in 1970 and 1971. It was a great track. I even met Dickie Harrell there. I have many great memories being there. Many of my friends also raced there.
Terry W. Henry
Zell
St. Genevieve Drag Strip, circa 1971-72
A friend of mine, Daryl Cooper, used to race at the St. Genevieve Mo. Drag Strip track until it closed down in, I think, 1977. Les Trautman built the track and opened it in 1966, I think. Les Trautman lives in St. Genevieve as I remember. I have picures of Daryl Cooper and his race car there, Mr. Bardahl's '66 Corvette and Mr. Bardahl's '67 Cmaro and Arnie Beswick when he match raced a early funny car '66 Mustang.
Lyndel Revelle
St. Genevieve Drag Strip, circa 1969-70
I raced my '65 GTO there one time.  The shut down was short.  Had fun.  A friend, Leroy Grass, lived in St. Gen is how I  went there.
Steve Stranz
St. Genevieve Drag Strip, circa early 1970s
I raced at St. Gen Dragway in the early 70's. I have fond memories of St. Gen. as a boy when I would help an older friend of mine with his '34 Chevy coupe. At 63 years old, I still enjoy drag racing.
Doyle "Zig" Jones