MARYLAND
Hagerstown Speedway (1952)
Ritchie Raceway (Glen Burnie) (1953)

Frederick Municipal Airport (1956) 
​Georgetown Speedway Drag Strip (1956)
75-80 Drag-A-Way

(Monrovia) (1960)
Mason Dixon Dragway

(Boonsboro) (1961)
Capitol Raceway Park

(Crofton) (1962)
Cecil County Dragway

(Rising Sun) (1963)
Maryland International Raceway

(Mechanicsville) (1966)
Free State Motorcycle Club Grounds (Rawlings) (1971)
 Fr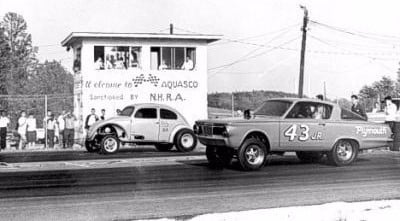 Richard Petty racing his Barracuda at Aquasco Speedway, circa 1965. Photographer unknown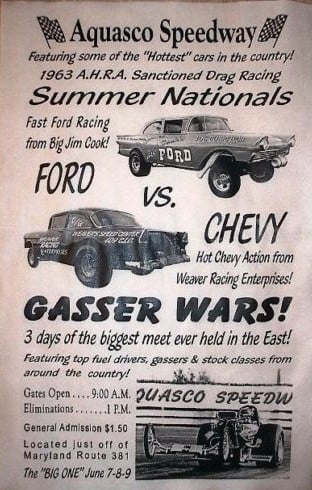 Years of Operation: 1957-78

Maryland's first dedicated drag strip was built on land bought by Alfonso and Rose Procopio in 1955. Alphonso's son, Al Jr., persuaded his father to build a drag strip on the land. Julio Marra, who married Alphonso's daughter, Betty, was asked to help set up and run the drag strip. The opening date of the track was May 25, 1957. On October 20, 1957, Joe Jacono set a new strip record with a run of 130.4 MPH. Some young hot rodders, members of the Road Angels car club in the Frederick area, wrote in a newspaper letter to the editor that Aquasco Speedway in 1957 was a "very poor drag strip." (Frederick News, Oct. 10, 1957) But the Procopio family steadily made improvements to the strip, becoming sanctioned by AHRA about 1960, then NHRA in 1965. Located on Route 381, it was back in the woods on Neck Road in Aquasco. Today it has almost been reclaimed by nature as the woods have closed in on the old track.
Did you race here? Tell us about it.
CLICK HERE to see location on a map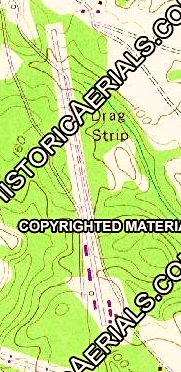 CLICK HERE to see 8mm video footage of Aquasco Raceway,, produced by James Amos, go to 3:02 minute mark through 3:59 minute mark
CLICK HERE to see 8mm video footage of Aquasco Raceway in 1971, featuring Sox and Martin, 3 minutes, no sound
1993 aerial view of Aquasco Speedway
Years of Operation: 1962-present
Newspapers reported that the drag strip, located just south of Gambrills, would be finished about May 20, 1962, however due to delays, it didn't open until August 26. ("Drag strip built near Millersville,"
Annapolis Capital
, March 29, 1962)
An online source
incorrectly states that the raceway opened for racing in September 1961. The newspaper also reported that promoters hoped to begin weekly racing on Wednesday and Saturday nights. It was  4,000 feet long and 60 foot wide. On October 21, 1962, it hosted NHRA's first annual Northeast Division Invitational race.  Don Garlits made a special appearance at that race. The strip billed itself as the "nation's capital of drag racing." In the beginning years they held weekly Sunday races. On November 25, 1962, the Reese Brothers B/FD had the fastest time with a 9.02 ET and 166.13 MPH. In 1963, the county learned that the raceway had been operating without an amusement license. They were ordered to get a license or risk being closed down. That year it also claimed to have the only electronic handicap starter in the country. In 1967, the track was sanctioned by NHRA. Robert Wilberger was the track manager in the mid-1970s. On April 7, 1979, Robert Metheny was racing his 1965 GTO when a sniper in the nearby woods shot at him with a .22 rifle. He escaped injury when his helmet stopped the bullet. Today (2018) it operates as a 1/8th-mile IHRA track.
Did you race here? Tell us about it.
CLICK HERE to see location on a map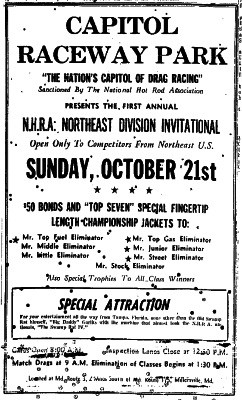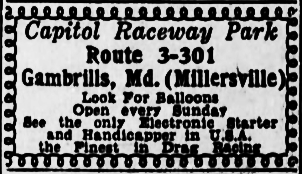 CLICK HERE to see brief 8mm video footage of Cecil County Dragway, produced by James Amos, pan to 5:27 minute mark thru 6:14 minute mark
CLICK HERE to see video footage of Capitol Raceway, circa 2005, 15 minutes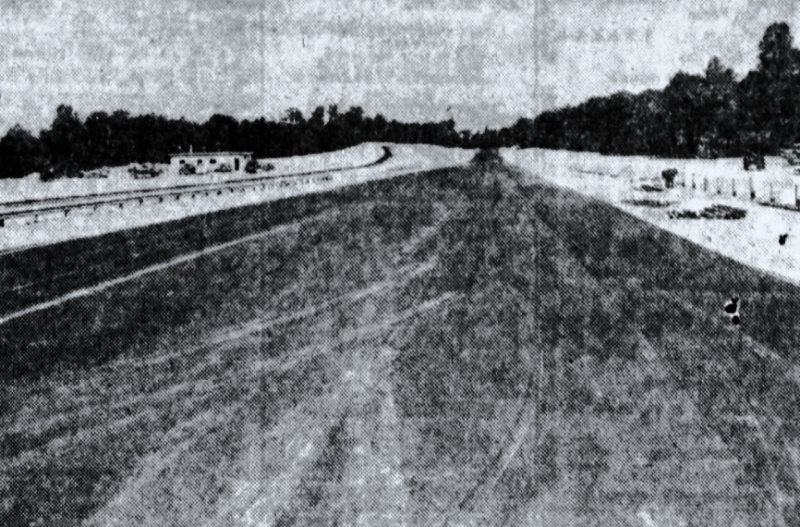 This view of Capitol Raceway was photographed prior to its opening on August 26, 1962. Photo published in Baltimore Evening Sun, Aug. 25, 1962
Cecil County Dragway ​(Rising Sun)
Years of Operation: 1963-present

The 1/5th-mile drag strip opened in April 1963. It was an unfortunate beginning when the track experienced a fatal accident only a month after opening. On May 12, 1963, Tommy DePalma, age 21, from Hyattsville, Maryland, was killed driving his dragster. His brakes failed at an estmated 175 MPH, trying to brake for a curve, and ran off the track and slammed into a tree. On June 27, 1964, Don Garlits successfully defended his Mr. Eliminator title by beating Jerry Baltes with a time of 7.75 seconds at 194.38 MPH. Cecil County Drag-O-Way was listed in the March 1969 issue of Hot Rod as running under NHRA sanction. Ron McNeal was the track manager then. In 1970, the South Jersey Timing Association, owners of Atco Dragway, bought Cecil County Dragway. Top races held at Cecil County included the Cars Magazine Funny Car and Super Stock Championships, the Mr. USA Fuel Eliminator, and the Ford vs. Chevy Funny Car Grand Prix. On March 15, 1970, Jungle Jim Liberman set a track funny car record of 7.20 seconds on March 15, 1970. John F. Comer owned the track in the 1980s and 1990s. It continues as an NHRA-sanctioned quarter-mile track today.
Did you race here? Tell us about it.
CLICK HERE to see location on a map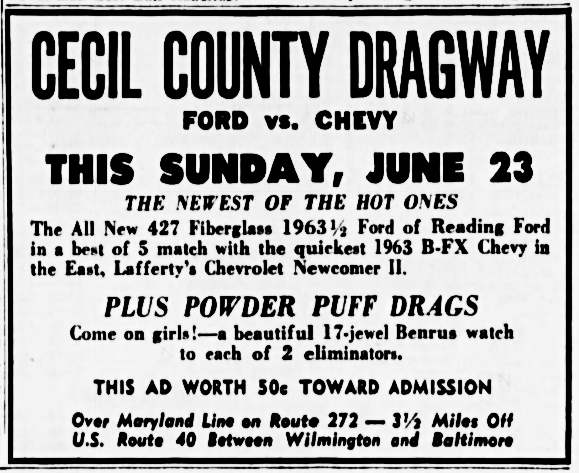 CLICK HERE to see brief 8mm video footage of Cecil County Dragway, produced by James Amos, pan to 7:07 minute mark thru 7:18 minute mark
CLICK HERE to see 8mm video footage of Cecil County Dragway, circa 1966, 5 minutes
Frederick Municipal Airport
Years of Operation: 1956-57, ca. 1961-62
The Road Angels Car Club of Frederick, supervised by the Middle Atlantic Timing Association, began conducting quarter-mile drag races at the airport on June 24,  1956.  2,500 spectators saw Mike Gurtizen win top eliminator and set a new east coast record of 125 MPH in the Gent's Roadster car club's rear-engined dragster from York, Pennsylvania. Four thousand spectators watched 125 racers from Maryland, Pennsylvania, New York, Virginia, and Washington, D.C., on the track's second event held on July 15, 1956. Larry Hickey set a track record in his dragster with a 132.35 MPH clocking. The August 19th race drew 5,000 spectators to see 120 competitors. The final race of the 1956 season occurred on October 14. It drew 320 entries. In 1957, Frederick County limited the car club to just two races that year. In 1959, the Frederick Tall Cedars of Lebanon, asked if they could hold three drag races, but were denied.
Charlie Roberts recalled attending drag races there circa 1961-62.
Did you race here? Tell us about it.
CLICK HERE to see location on a map
Free State Motorcycle Club Grounds ​(Rawlings)
Years of Operation: 1971-76
Status:  Exact location unknown

The Free State Motorcycle Club conducted drag races on their quarter-mile strip on their club grounds beginning in 1971. Motorcycle drag races were held at the Free State Riders club grounds off Route 220, one mile south of Rawlings, on July 23 and August 20 in 1972. The Maryland State Motorcycle Drag Racing Championships were held over the Labor Day weekend at a 3-day event at their club grounds in 1972. Paul Plummer won the top eliminator event on all three days to take the state title.
Did you race here? Tell us about it.
CLICK HERE to see location on a map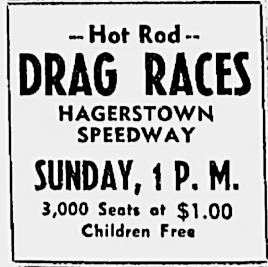 The first drag race was held on Sunday, April 20, 1952. Earl Douglas was the over-all winner in his 1951 Mercury. The race proved popular, so the following week it was scheduled again, this time being opened to general spectators. King Promotions out of Washington, D. C., promoted the drag racing. The race grew in popularity and was held weekly in 1952. The clay half-mile oval track was located six miles west of Hagerstown.
Did you race here? Tell us about it.
CLICK HERE to see location on a map
Maryland International Raceway ​​​(Mechanicsville)
Years of Operation: 1966-present
Excerpts from
history on official MIR website
:  "
Maryland International Raceway was first built in 1966, by Joe LaRoque. The very first opening event in July, 1966, was called the NASCAR Top Fuel Championships. This Top Fuel event was won by Ronnie Still in a Hemi Small Block Chevy. The raceway's name at that time was St. Mary's Drag-O-Way. Joe retained ownership of the raceway for just a little over a year.
In 1967, Bill Cairns (a car dealership owner) bought the facility. He renamed the track to Budds Creek Raceway. Bill was a St. Mary's County resident himself. The operation remained under his control until 1972. The track was then purchased by Tod Mack and Larry Clayton. The name was again changed to the present Maryland International Raceway. (Tod actually worked for the NASCAR Drag Division, and helped design it, when LaRoque built the track) Their creative thinking and ingenuity for the raceway built a foundation for the sport. The first U.S. Pro Stock Open, back in 1975, was a hit! The turnout for the event was so much more than they expected, and they actually ran out of tickets! Among some of the innumerable things that Tod and Larry did at the raceway was at one time, there were two Christmas trees on the track, and four lanes. The timing system was set up to register 1st, 2nd, 3rd, and 4th place. Four cars actually competed, and it was an eye opening show! Tod also developed the very first digital timing system, named DigiTime. When they took over the track, the part of the existing burnout box and the pad was nothing but a large canyon, literally where the tower stands now. This canyon was about 90' deep. They decided to fill that incredible span with gravel to make more room around the starting line. If you've ever been to MDIR, you may have noticed that right behind the winner's circle near the starting line, there is a large canyon. And what a project that was - to fill that area with gravel that is about 90' deep, hundreds of feet wide, and a couple hundred feet long. Ownership changed hands yet again to Royce and Linda Miller. Leased by Miller in late 1989, the name was unchanged. Royce was actually the MDIR Super Pro Track Champion in 1984 too. The track remained NHRA until 1991. Then in the opening of the 1992 season, MDIR took a new leap to the International Hot Rod Association. With all of his racing and business experience (he also owns commercial real estate in Manassas, Virginia, that he leases), he was the right man for the job. The lease agreement finally ended when Miller purchased the track in February, 1998.
Maryland International Raceway has gone through a number of facelifts - and there are currently plans for additional improvements underway. The track's appearance has changed dramatically over the years, and a lot of work has been done to make it the facility that it is today.  There was once even talk about changing the direction of the track during Tod and Larry's ownership by making the starting line where the shutdown area is. In any event, the track has changed for the best, with credibility lending to everyone in it's past." One interesting feature not mentioned was that Tod Mack initiated a parimutual betting operation at the track in 1975. He called it the Dragzacta system.
CLICK HERE to see video footage commercial promo of Quartermasters Challenge at Maryland International Raceway, 2008, 3:21 minutes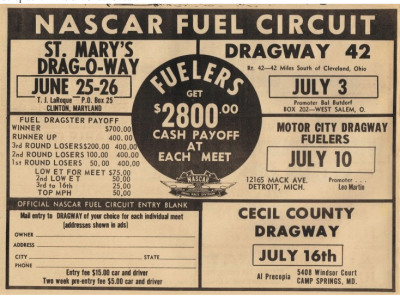 This
1966 NASCAR ad
mentinos that St. Mary's Drag-O-Way would be one of the strips putting on a race for fuelers on June 25-26. St. Mary's Drag-O-Way was the name of the strip that would later be called Budd's Creek Raceway, then Maryland International Raceway.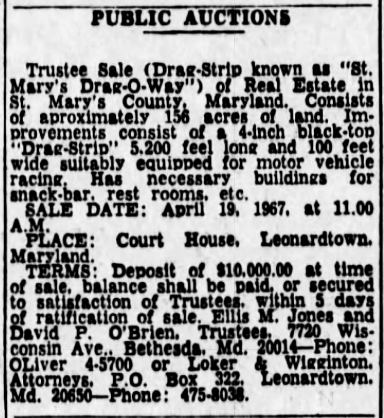 Did you race here? Tell us about it.
CLICK HERE to see location on a map
Newspaper announcement for sale of St. Mary's Drag-O-Way. Published in ​​Baltimore Sun, Apr. 8, 1967
Mason Dixon Dragway ​​(Boonsboro)
Years of Operation: 1961-present

In June 1960, Elwood Grimm reported that he was going to begin building a $75,000 drag strip on his property on Chewsville Pike (probably Highway 64) in Chewsville. Grimm planned on operating the strip with the help of the Mason-Dixon Timing Association. He had hoped to have it open by fall 1960. However something happened to cause him to build it in a different location. In April 1961, he bought the 160-acre Charles Cosens farm, about five miles south of his Chewsville property. The site was just south of U. S. Highway 40 in the town of Boonsboro, southeast of Hagerstown. Initial plans were to build an asphalt track 3,500 feet long and 40 feet wide. The strip would run parallel to and 800 feet from the highway. He hoped to have the strip open by June 1. Initially he planned on calling it the Hagerstown Dragway (that is what it was called in 1961). But there were delays, as there usually are, and the track didn't have its first opening until Labor Day weekend, September 3-4, 1961.  Out of the gate, the "Nasty 1" A/FD set a strip mark of 9.08 seconds at 171.75 MPH. The strip operated on a weekly basis on Sundays.  When the strip opened for the 1962 season, it did so under the name Mason Dixon Drag-O-Way.  On August 4, 1963, Dave Strickler beat Don Nicholson in a best-of-five match race. In 1971, the track hosted the NAAR 1/8th Mile Nationals. It has been sanctioned by NHRA for many years and continues to be an NHRA-sanctioned quarter-mile track today.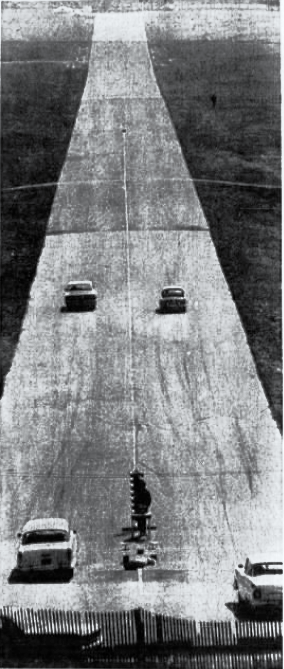 Did you race here? Tell us about it.
CLICK HERE to see location on a map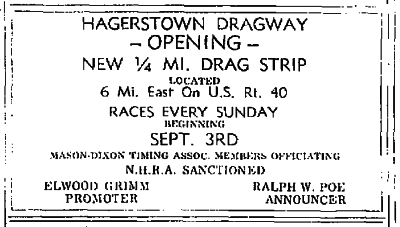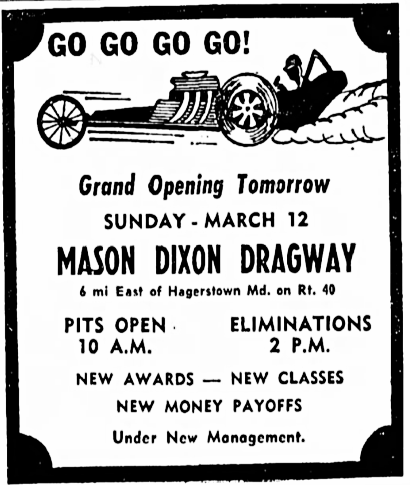 Two racers pull up to the starting line at Mason-Dixon Drag-o-Way. Photo published in ​Mansfield News-Journal, Apr. 18, 1965
This early ad promoting a race on September 3, 1961, was in the time period when it was called Hagerstown Dragway.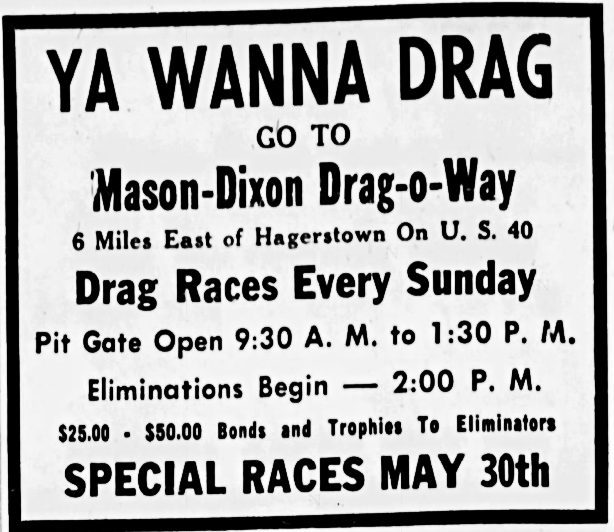 This ad promotes a race for March 12, 1967, the year the strip's name was shortened to just Mason-Dixon Dragway, not Drag-o-Way. The track was also sanctioned by NASCAR in 1967.
CLICK HERE to see video footage of Stock & Super Stock racing at Mason Dixon on November 2, 2013, 7 minutes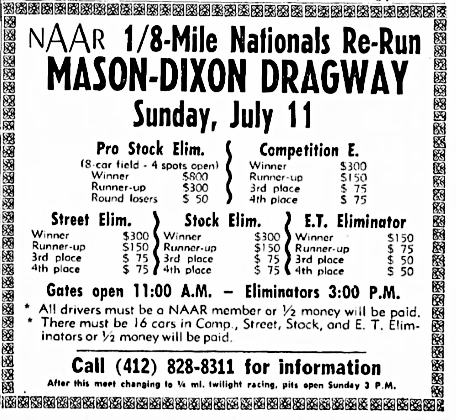 In 1962, the strip was called Mason-Dixon Drag-o-Way
Mason-Dixon hosted the NAAR 1/8th-Mile Nationals on July 11, 1971
Ritchie Raceway ​​​(Glen Burnie)

The Maryland Timing Association began holding "acceleration trials" at this half-mile dirt track, beginning on August 22, 1953. The races were held prior to the regular oval track races and during intermission. Ads stated it was located three miles south of Brooklyn on the Ritchie Highway. The old oval track was demolished prior to 1971 and is a commercial shopping area today.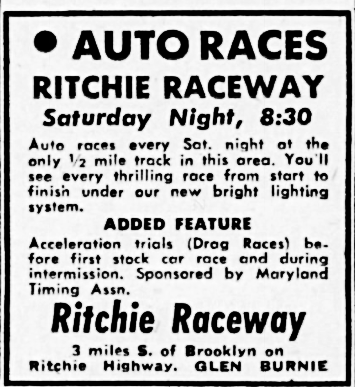 Did you race here? Tell us about it.
CLICK HERE to see location on a map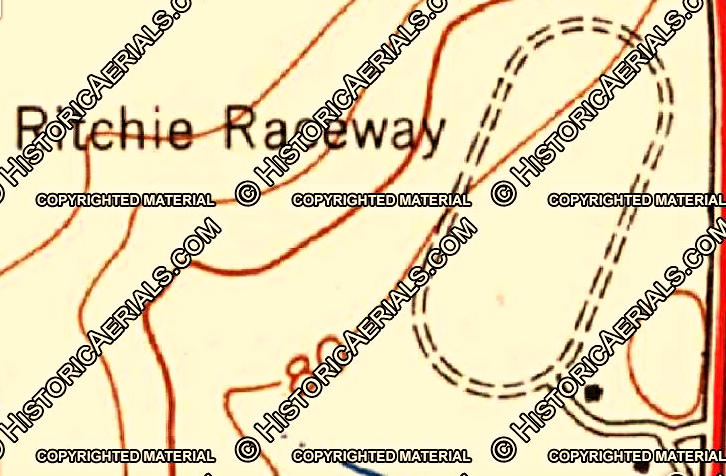 75-80 Drag-A-Way ​(Monrovia)
Years of Operation: 1960-2005, 2009-13
The Frederick County Appeals Board approved the request of Chuck Wilcom of Monrovia in July 1960 to build a drag strip on thirty-three acres of farm land at the intersection of Maryland 75 and Maryland 80. They specified that he needed to build adequate entrance and exit roads. He moved quickly on the project and the track was ready for its grand opening on September 18, 1960. The race track was three miles south of New Market and was scheduled for racing each Sunday. Races were conducted and sponsored by the Maryland Timing Association. When the track first opened, there was little more than a farm field with an asphalt strip down the middle of it. One
old timer
recalled a memorable match race in 1963 between Ronnie Sox and Don Nicholson, purportedly the first time Sox was paid to match race:  "Ronnie Sox matched raced 'Dyno Don' Nicholson on a Wednesday night, and the place was packed. Both ran white, Z-Eleven Impalas. Funny thing is I can't remember who won the 'best out of three' match. Probably each won at least one. The best thing was neither car would use the return road (it was pretty bad) and after each blast down the quarter mile they would come back using the race track. In those days the hot setup was to jack the front end up in the air while the car was sitting still. It was a sight to see those Z-Elevens come down the track the wrong way with the front ends sticking up in the air. Years later, I asked both Ronnie and Dyno who won, and they both said they did! I guess they ran so many match races they couldn't remember either." A news article written on the track's tenth anniversary (
Frederick News Post
, July 30, 1970) described its humble beginnings:  "It was dusty, poorly organized and safety precautions almost non-existent. A wire fence on each side of the track, which fans pushed flat almost every week, was the only barrier between the race cars and the spectators. At the far end of the track was a sometimes near-sighted, sometimes unbiased judge to wave a flag in the winner's lane." Ten years later the pit area was paved, there were guard rails and chain link fences, and electronic timing equipment. Match races and special exhibition shows were frequent affairs. The track featured such drag racing luminaries as Ronnie Sox, Phil Bonner, Dick Landy, etc. In 1971, the track was sanctioned by NHRA. The track closed in 2005 as owner Bill Wilcom planned on making a residential development on the 400-acre farm. However a building moratorium imposed shortly after the track's closure froze his plans. The land sat unused until 2009, when the strip reopened for a few more years of racing until closing for good after the 2013 season.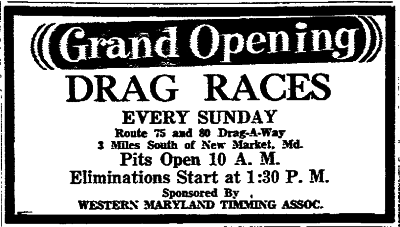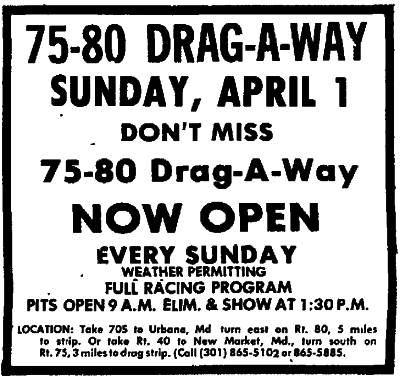 CLICK HERE to see video footage of Mid-Atlantic Street Racing Association race at 75-80 Dragway in 1999, 9 minutes

Did you race here? Tell us about it.
CLICK HERE to see location on a map