Remembering . . .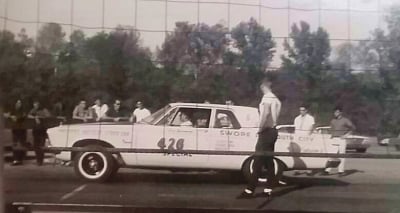 Beech Bend Raceway at Bowling Green, circa 1960s. Photographer unknown
Bowling Green
I was at Bowling Green in August 1957. They were running 1/4 mile on dirt, slight downhill and narrow, about 80 cars. There was a rail with a Ranger aircraft engine, six cylinders. The  top time and top eliminator was a '56 Chevy, just bought in So Cal.  90 mph. I was at Fort Knox, was wearing a 140 mph club jacket
and no one there would beleve a car could run 140+ in 1/4mile.

Don Jensen
I ran at Bowling Green with my '48 Anglia.

Joe "Muggs" Tichenor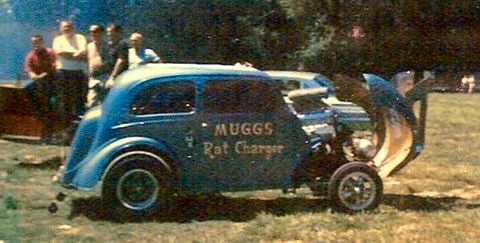 Muggs Tichinor's 1948 Anglia AA/GS at Beech Bend in 1966. Courtesy of Muggs Tichenor
Beech Bend Raceway, 2001-14
I raced at Beech Bend Raceway in 2001 thru 2014.  Very nice facility. Prior to my racing, I worked as tech and staging lanes at Beech Bend Raceway.

Francis Libs
Beech Bend Raceway, 1960s
I started racing at Beech Bend in the 1960s racing in C/D Chevy-powered dragster. I won Competition Eliminator. I raced at the Sportsnationals in '75, '76, & '77. I have come back in the last sixteen years and particpated in the NHRA National Hot Rod Reunions. Great track. Morris Smith was a great track manager and the Garvins built a great track, campground and park. The Kentucky Moonshiners Top Fuel team were great, And Joe Williamson's "Trouble Maker."

Dave Huber
Campbellsville
Campbellsville Dragway, 1959-70
I raced 6 or more cars at Campbellsville Dragstrip from 1959 to 1970.  I raced a 1953 Studebaker C Gas in 1964. I won many races. I got protested many times. Tear down was $75. I built a '48 Anglia. I ran it in C Gas for one year. In 1966 the Anglia was AA Gas Supercharged. I raced this car until 1970.
Muggs Tichenor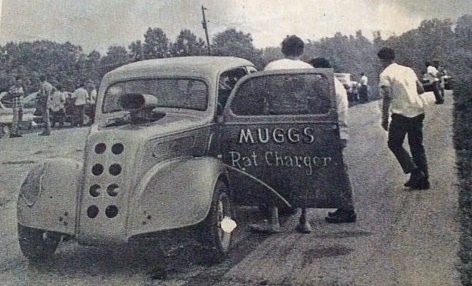 Newspaper photo of Joe Tichenor's 1948 Anglia AA/GS at Campbellsville Dragway, winning top eliminator on August 4, 1968. His car, called "Muggs' Rat Charger," was powered by a 427 cu. in. Chevy. Courtesy of Muggs Tichenor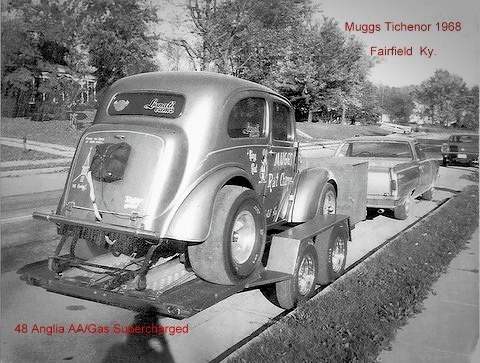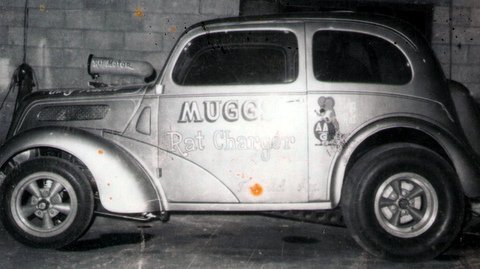 Courtesy of Muggs Tichenor
Campbellsville Dragway, 1959-73
I raced at Campbellsville Dragstrip for several years thru 1973 when the track closed. My father also raced there from 1959 thru 1973. I still have several pictures andd trophies from then. I remember all the guys who raced there. The first year, in 1959, the track was clay dirt before it was paved.
William McNear
Cedar Creek
Cedar Creek Drag Strip, 1970-71
I raced at Cedar Creek Drag Strip in 1970 and 1971 with a 1969 red Volkswagen Beetle, V Stock Class. That's how I got the racing bug. My son is now racing one of the cars that I built in the '70's at various tracks around the Kentuckiana area. I have many great memories of racing at Cedar Creek Drag Strip.
John Pence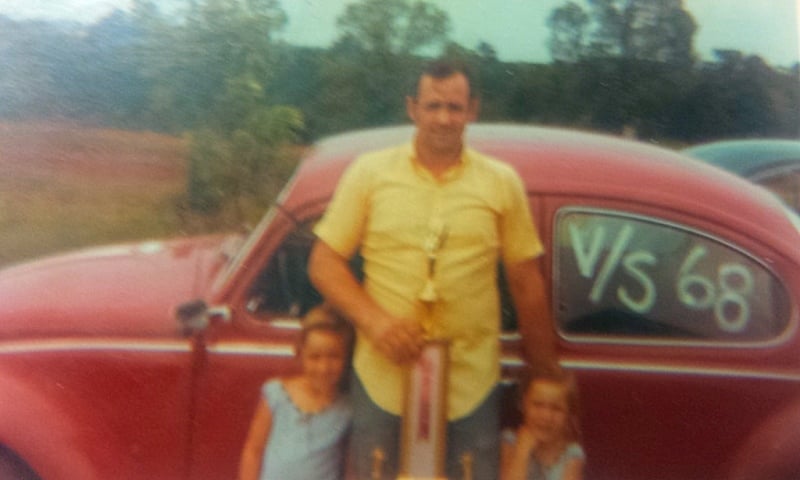 John Pence with his trophy-winning V/S Volkswagen, Cedar Creek Drag Strip. Courtesy of John Pence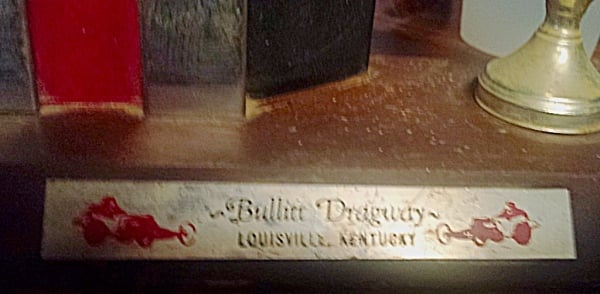 Trophy won by John Pence at Bullit Dragway, although not the one pictured with his VW (above). Courtesy of John Pence
Clay City
Mountain Park Dragway, 1965-70
I sold my 1953 Studebaker C/G at the end of the 1964 season and built a '55 Chevy C Gasser. I would race Friday night and Saturday night at Clay City, then go to Somerset on Sunday. I sold  the '55 at the end of the 1965 season . I built a '48 Anglia. I ran C Gas for one year in 1966. In 1967 the Anglia was AA Gas Supercharged. I raced this car until 1970.  Won many races. I sold the Anglia and drove John Carter's '33 Willys for six months. I quit drag racing mainly over rule changes, new electronics in 1970.  Then I built a supercharged pulling tractor.  Tractor pulling was getting started for hot rod tractors . I built the tractor  in  1970.  I was one of the first with a 500 cu. in. blown engine. I won the Louisville farm machinery show pull three times.

Muggs Tichenor
Joe "Muggs" Tichenor's supercharged pulling tractor, competing in the 7,000 and 9,000-pound classes in Illinois, across the river from St. Louis. Courtesy of Muggs Tichenor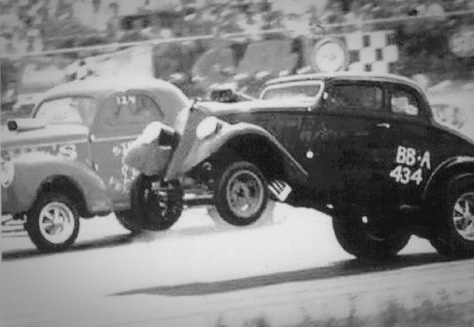 Muggs Tichenor driving John Carter's 1933 Willys. Courtesy of Muggs Tichenor
Mountain Park Dragway, 1960s-82
I ran at Clay City in the 60's, driving up from Ashland at least once per month. I moved to Lexington in '71 and used to run my '69 Dart Swinger 340. In 1979 I acquired a '68 Dart GTS, already built but with modified original 383. The car was later converted to a 440 but only ran there a couple of times prior to shutting down track. I ran here several times, mostly in a Mopar of sorts. The last time was 1982 in my '68 Dart GTS. I.damaged the car, hauled it home, and promptly sold it. I never went drag racing again after that.
Phil Osborne
Manchester
Manchester Dragway, late1960s-early 1970s
My dad and uncles raced at Manchester when I was small. I remember riding there in my Uncle Bob's '69 SS 375 HP Chevelle, with a 4-speed. The good old days.
Rick King
Ralph King's 1966 GTO Tri-Power, Manchester Dragway, late 1960s or very early 1970s. Courtesy of Rick King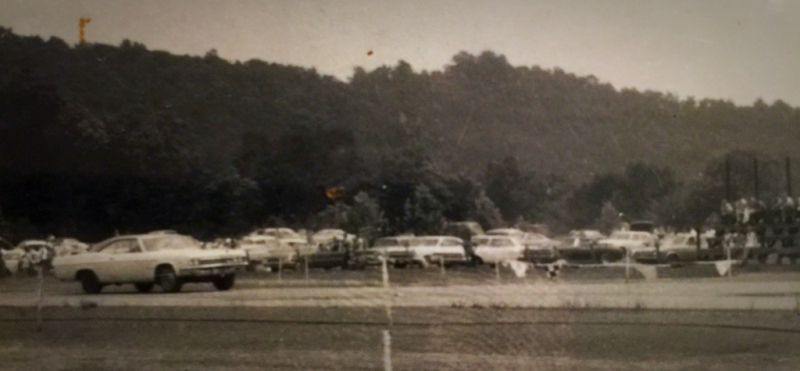 Bobby Schultz's 1966 Caprice 396, Manchester Dragway, late 1960s or very early 1970s. Courtesy of Rick King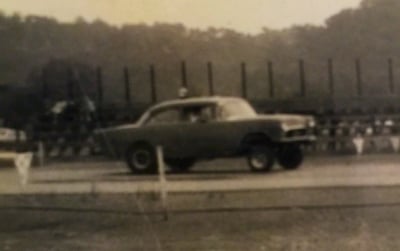 Willys gasser, Manchester Dragway, late 1960s or very early 1970s. Courtesy of Rick King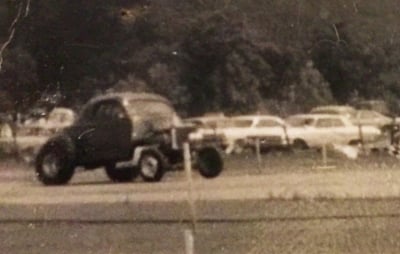 1955 Chevy gasser, Manchester Dragway, late 1960s or very early 1970s. Courtesy of Rick King
When people arrived, they pulled thru the front yard of a house, and there you paid your entry fee. To get to the track you drove up the steep hill with no gravel, only powdered crushed slate, the regular soil for the area. When you got to the top of the hill there was the track--no grass, just a flat drag strip. Two young men died  there and I think that caused it to close. In the middle of the week, they were goofing off and going the wrong way.  Over the 100 foot cliff they went and died. I know the names of some drivers and cars.

William "Speedy" Denny
Morning View
Thorn Hill Drag Strip, 1957-1990s
The history of Thorn Hill is very well known to me as I grew up, lived, and owned a race car shop less than three miles from there! The owner, Ralph Payne, ran Thorn Hill Lakes and the drag strip from some time in the early '50s. There is much history of Mr. Payne that I will not go into, but my family on my mother's side were neighbors of his in Dayton, Kentucky,  in the '30s and '40s.  My first memories were from about 1957 at the drag strip. Then the starter used a flag. Then he went to a traffic light, and later to a clock as a starter! The clock had a dial and hand that turned to 0 to start the run. I raced there the first time in 1963 when I was in high school. Then after the service, I built and raced a 1948 Anglia with a small-block Chev in D/A and later in a 1970 Camaro.  Upon Ralph's passing, the track was closed off and on as different people ran the track. I believe it is still running today. I sold my race car shop in 1999 and moved to Florida, but still have friends that race there.
Stan Budke
Thorn Hill Drag Strip, 1960s-1970s
My dad, Jerry Ellison, Sr., used to race motorcycles in the late '60-early 70s at Thornhill Drag in Kentucky and other places. I have a picture of a trophy he won sitting on top of a motorcycle. It was not the motorcycle that he raced, I don't think.
Jerry Ellison, Jr.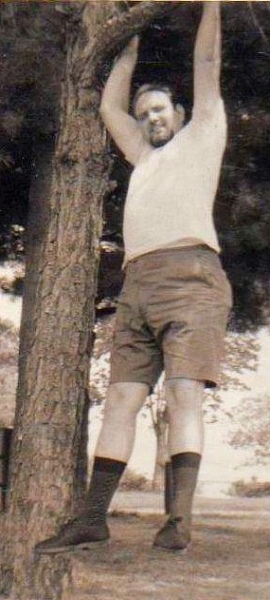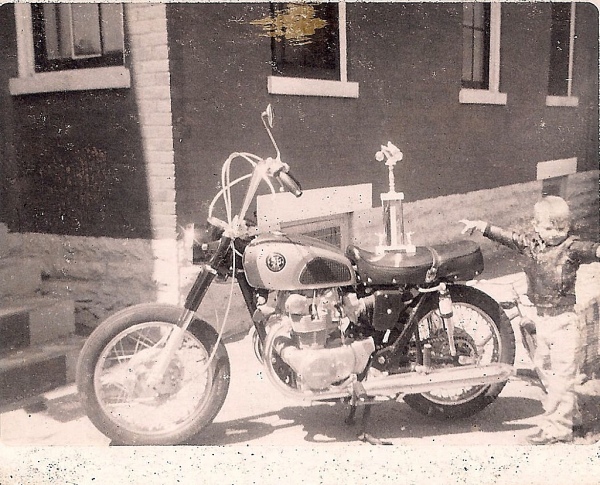 Jerry wrote, "My dad also did motorcycle hill climbing in that area a lot. There was a popular TV series around that time called 'Then Came Bronson.' He often wore a watch cap like the Michael Parks character." Courtesy of Jerry Ellison, Jr.
Jerry Ellison wrote, "The motorcyle in the picture was what we rode around on, not what he raced. The race bike was one of the Kawasaki triple line which eventually became known as the Widowmaker. Small and inexpensive but powerful."  Little Jerry Ellison, Jr., is the boy behind the bike. Photo circa 1969, courtesy of Jerry Ellison, Jr.
Owensboro
Owensboro Drag Strip, 1966-70
I raced at Owensboro Drag Strip from 1966 until 1970. I had a 1955 Chevy street car that I ran in L/S in 1966-67. Then I had a 1968 Chevelle 375 hp 4-speed street car that I raced in A/S in '68. In 1969 it was considered B/S. Cars that I remember from there was a '68 Chevelle in my class that was trailered by Don Stone. It was called "Country Boy." Glen Midkiff had a '65 GTO. Jim Yeiser had an A/SR that Jerry Yeiser drove. Pappy Greenfield had a A/G Anglia that came from Nashville. There used to be ar S/SS and F/X race that would run at Hardinsburg, Kentucky on Friday, Owensboro on Saturday, and Bowling Green on Sunday.
Mike Phillips
Owensboro Drag Strip, 1966, 1970
I have some color slides that I took at this drag strip in 1966. I will have to convert them to pictures. I also have the flyer that lists all the match schedules for the summer of '66. I also raced there in 1970, the last summer of operation. Saturday drag race, Sunday grudge races, lots and lots of fun. I'm 69 years young.
Dave Royal
Richmond
I know the first owners that had the drag strip built. One of them died a few years back. I know the man that collected the money, the starter line-up guy, the flagman, and dozens of car owners and drivers. I have videos of a dozen or more racers. The guy that watched the finish line and flipped the light on whatever side that won the race. Most popular drivers, including Jack Roush, the fellow that created Roush Engines and owns several NASCAR teams. I have lots of info on the fellow that ran out of stopping room, went over the hill, crashed into the bank and died. And where they buried the stolen, chrome front end from his car. I know the second owners and the reason they re-opened it for a short time, and about when they changed the distance from 1/4 mile to 1/8. The photo of the man and woman were husband and wife. That is the old airport hanger in the background. He is still living, 86 years old and still drives his own drag car at drag strips. I am 57 years old and remember seeing the rails on the drag strip when I was a small kid in 1967 or 1968. The dragstrip was about 1/2 mile down the road from where I have lived all of my life.
William "Speedy" Denny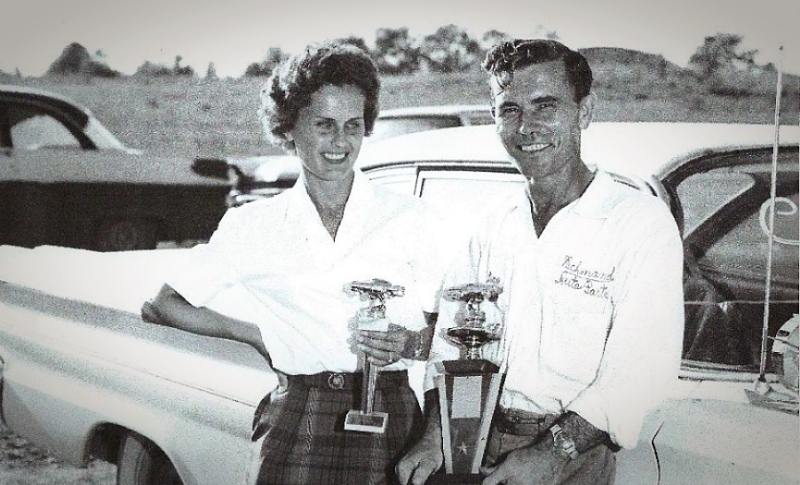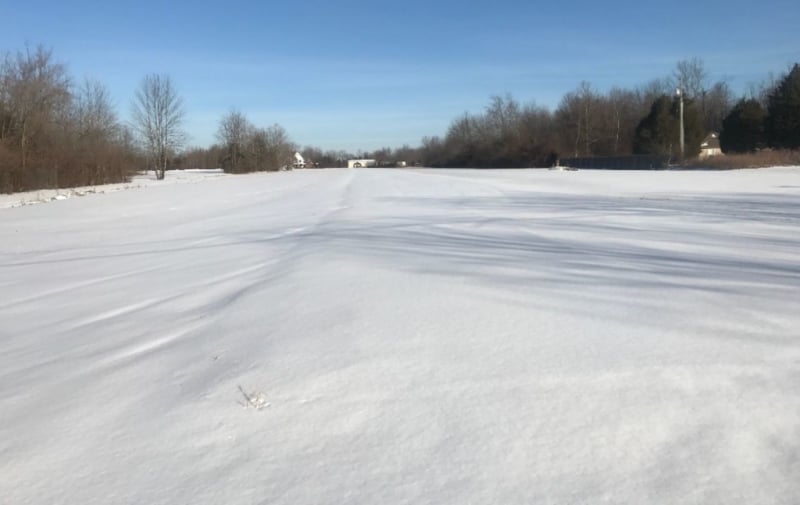 Old Richmond Dragway site today. Courtesy of Speedy Denny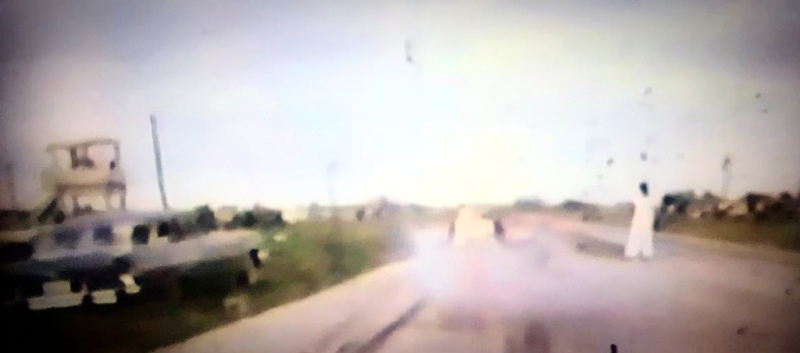 Frame from video footage of Richmond Dragway. Courtesy of Speedy Denny
West Point
Ohio Valley Raceway, 1976-78
I raced a 750 green Honda nicknamed "The Frog." I won a lot of races. I got protested a few times and pulled the head on the spot . Took the money and trophy, strapped on the back and went home. I held the D stock record for awhile. I was there from 1976 to '78. I also raced in ET bracket at Harrison County, Indiana. I raced on Saturdays at night in Kentucky and Sunday in Indiana. Because of moving and not being as responsible as I should have, I don't even have one trophy. And that's a shame because I wasn't a team sport's kind of guy, but I was very good on my Honda. Here's a funny story from my late foster father--I was one of the youngest and drove to the track, winning almost every time. I really liked everyone of those guys, but to my naïve youth some of them didn't like me? I had bought a totaled bike and rebuilt it to a stock bike for about $650 and it looked new! They had thousands in theirs plus most weren't street legal, so their only goal was to win. I was just having fun.
Robert Miller
Ohio Valley Raceway, 1968
I raced my AA/GS Anglia here.
Muggs Tichenor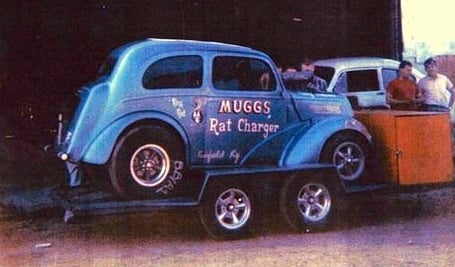 Joe "Muggs" Tichenor's AA/GS Anglia at Ohio Valley in 1968. Courtesy of Muggs Tichenor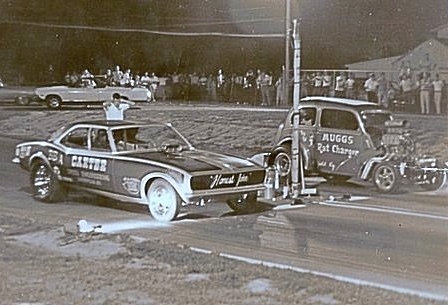 Joe "Muggs" Tichenor's AA/GS Anglia racing Honest John Carter at Ohio Valley. Courtesy of Muggs Tichenor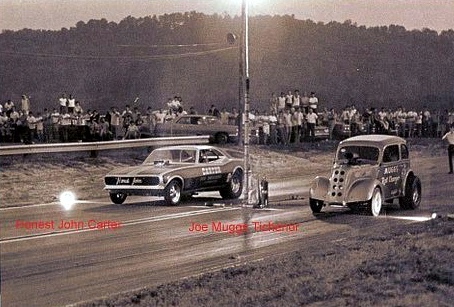 Muggs Tichenor racing John Carter at Ohio Valley. Courtesy of Muggs Tichenor