ALASKA
Ladd Air Force Base (Fairbanks) (1959)
Tanacross Air Base (1960) 
Merrill Field (Anchorage) (1961)
Ft. Wainwright/Racing Lions Drag Strip (Fairbanks) (1971)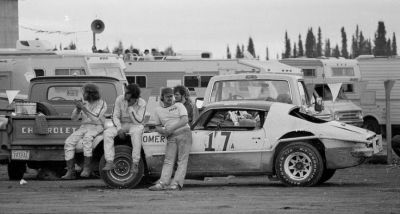 Polar Raceway, 1970s. Photograph from Stephen Cysewski
Anchorage Dragway
Years of Operation: 1965-?
Robert Larson sent DSL a newspaper ad for the grand opening of Anchorage Dragway on July 3-5, 1965. Much of the information known about this drag strip is found on this advertisement flyer. It operated on the little Sky Harbor Airport, built in 1962, in the southwestern part of Anchorage. It reportedly had bleacher seating for 3,000 people on 160 acres. It was sanctioned by NHRA. It had concessions and parking for 2,000 cars. It is not known when it closed, but may have been very short-lived. It also may have closed due to objections from neighbors.

Did you race here? Tell us about it.
CLICK HERE to see location on a map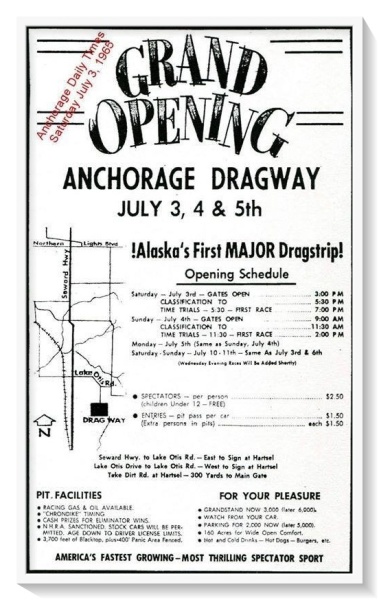 2002 aerial view of Sky Harbor Airport, site of Anchorage Dragway
Couirtesy of Robert Larson
Ft. Wainwright/Racing Lions Drag Strip ​(Fairbanks)
Years of Operation: 1971-73, 2009-10
The Midnight Sun Drag Race Association conducted the first-ever organized drag race in interior Alaska on the south runway of the airfield on Sunday, July 4, 1971. They received permission to do so from the fort commander, Brig. Gen. Charles M. Hall. Three thousand people watched 120 entries compete. Half of spectators were able to sit in bleachers erected for the event. Darrel L. Coker of Anchorage took top eliminator honors in his '55 Chevy. They used NHRA classification rules and raced on a quarter-mile section of runway, with a mile shutdown area. $1,000 in money prizes and trophies were awarded to the winners. The Race Association hoped to hold another race on August 29, but had to cancel because of the "non-availability of Ft. Wainwright." A race was held on Saturday, Juy 15, 1972, on the fort runway. Another race was held on Saturday, July 14, 1973. No admission fees were charged, but donations were accepted. Races expenses were covered by entry fees paid by the racers. In at least 2009-10, the Lions Club sponsored an annual drag race on the fort runway.
Did you race here? Tell us about it.
CLICK HERE to see location on a map
CLICK HERE to see video footage of Lions Club drag race at Fort Wainwright, June 2010, 0:55 minutes
Merrill Field (Anchorage)
Years of Operation: 1961-62
Opened in 1930, Merrill Field was located a mile east of Anchorage. In June 1961, a drag race was conducted on the airport runway. In 1962, 3,000 spectators watched 65 entries compete at a Labor Day weekend event. The racing was sponsored by the Anchorage Timing Association, which was comprised of four car clubs: Demons, Swappers, Ghost Riders, and Iceworms.
Did you race here? Tell us about it.
CLICK HERE to see location on a map
Polar Raceway/Alaska Raceway Park (Palmer)
Years of Operation: 1964-present
On July 4, 1963, a points championship drag race was scheduled to be held in Palmer. It was likely held at the municipal airport east of the town. Trophies were to be awarded to class winners. It was the first points race in Alaska that year. The final points race was scheduled to be run in Palmer on September 1, 1963.  Local racers hoped that they could not only build a drag strip some day, but also an oval and sports car road course. Although it wasn't called Alaska Raceway Park in the beginning, research has found this early race in 1963. Harold Forslund took action on that wish and began leveling land north of the Knik River for the raceway. Lee Nelson leased that land for the raceway. The Nelsons owned the track until about 1994, after which Earl and Karen Lackey took over. On Labor Day 1964, the track opened, with Governor Bill Egan cutting the ribbon. Beginning in 1964, the Memorial Day race at Palmer was considered the big drag race event in Alaska. The race at Tanacross was considered a warm-up for the Palmer race. It was still being called Polar Raceway in 1971, as there was a race there on October 3 that year The track might have changed its name when there was a change in ownership in the mid-1990s, but more research is needed. In 2000, the track was repaved and a heated launch pad installed.. It continues to operate as an IHRA-sanctioned quarter-mile track today.
Did you race here? Tell us about it.
CLICK HERE to see location on a map

Listing in National Dragster, Dec. 23, 1977. Courtesy of Mel Bashore
CLICK HERE to see video footage of Polar Raceway, 1984, 29:32 minutes
CLICK HERE to see video footage of Polar Raceway, 1978, 1:39 minutes
Tanacross Air Base 
Years of Operation: 1960-61, 1963-66
This Air Force base was built in 1943, but inactivated after the war.  It was essentially abandoned in 1960, the year drag races were held on a runway on Labor Day. The Arctic Slicks hot rod club from Fairbanks conducted the racing in 1961. On July 23, 1961, 300 onlookers watched Will Nelson take top eliminator honors in his A/A Model A out of Anchorage.  Police wouldn't permit drag racers to race on Memorial Day in 1962 because they lacked proper supervision and authorization to use the air field. Reports of under-age drinking and all-night parties in prior years had contributed to their decision to disallow it. The Delta Drag-ins car club received permission to hold a drag race on August 18, 1963. Bob Goad of Fairbanks took top eliminator in his A/S '62 Chevy with a 13.5 ET. The Fairbanks Timing Association conducted  a race on Sunday, May 16, 1965. Today Tanacross Airport is owned by the Bureau of Land Management.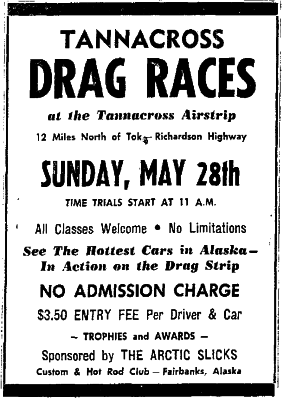 Did you race here? Tell us about it.
CLICK HERE to see location on a map